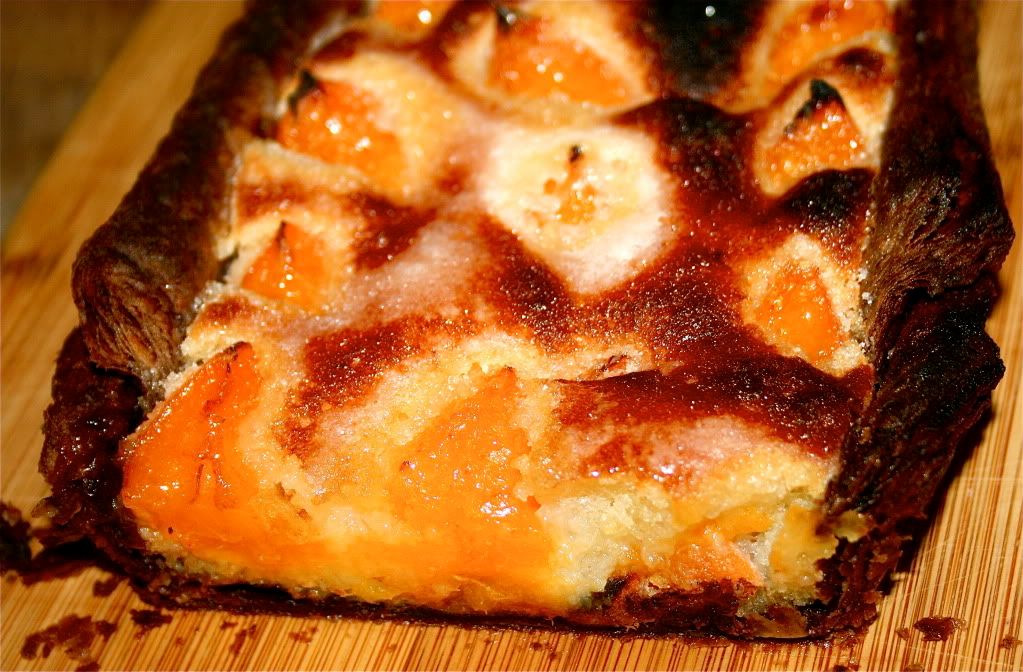 Still have leftover
chocolate puff pastry
, and already felt the urge to make a new batch. As some of you might remember, I mentioned that I really enjoy making laminated pastry. I find this activity very therapeutic, releases my stress level, and make me happy. My youngest sister starting to think the same way. Apparently, I can really bring good influence to my family. I really hope that my two sisters will try this recipe.
M
y
youngest sister
was already successfully made some of my recipes. Anyway, I thought it's a good idea to use my last batch of chocolate puff pastry and make an apricot tart, just before the apricot really disappear from the market.
If you don't have
chocolate puff pastry
, use the regular store bought puff pastry (just make sure that you buy only listed butter as the main ingredient), or you can also use regular sweet pastry (
recipe here
).
Ingredients:
3 pounds (
more or less depending the size of your apricot
) apricot, quartered
¼ cup granulated sugar
5 tablespoon butter, room temperature

1 large egg
½ teaspoon vanilla extract
¼ cup all-purpose flour
2 pinch baking powder
a pinch of salt
1 tablespoon granulated sugar, for sprinkling
Confectioner's sugar for serving (optional)

Butter well a 10 inches or 11 inches tart pan. Set aside. Preheat the oven to 400⁰F.
Sift the flour, and the baking powder. Set aside.
Roll out the puff pastry a little bit bigger then the size of your tart pan. Transfer the pastry onto the pan, trim off the excess. Refrigerate while you make the filling.
Beat the sugar, butter, and the vanilla in a mixer until light an fluffy. Add the egg, beat couple more minutes until pale. Add the flour, fold gently with rubber spatula just enough to mix the ingredients together.
Take out the pastry from the refrigerator. Spread this mixture over the pastry. Arrange the apricot, standing them upright in circular motion. Bake 25 minutes until the crust is golden. Take it out from the oven, sprinkle 1 tablespoon of granulated sugar over the apricot. Return the pan back in the oven, and bake for another 10 to 15 minutes, until the apricot is nicely glazed. Transfer to a wire rack to cool completely before serving.
I am not good at convincing people how good my recipe is, but I must say that nothing beat this apricot tart (I wish I can just send a slice to each of you). It is so good, that I honestly can eat the whole pan my myself. I know ... what you are thinking, I don't eat what I make????. Trust me, I do, I do ... (and do put a few pounds too, yao... ) and my family and friends notice this! In fact, my sister was jokingly said to me, hmmm, getting a bit plump, are we?