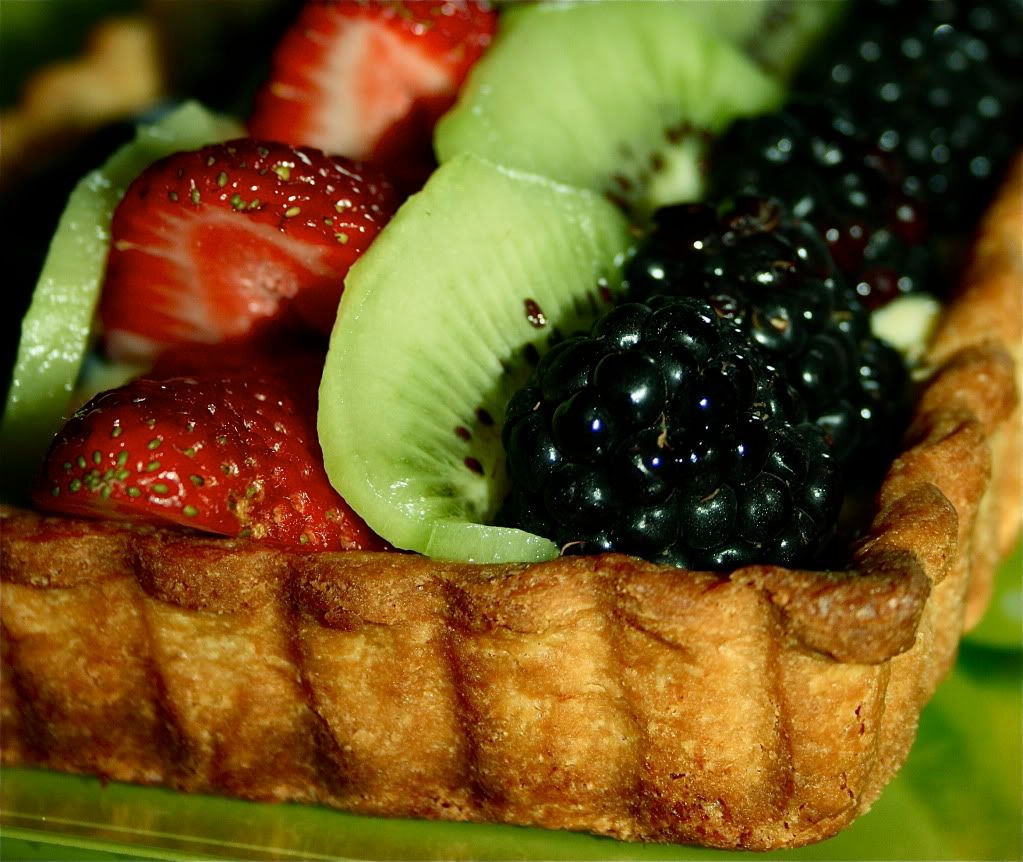 This tart was a special request from my husband to bring to a work related  party in on of his 
colleague's
 home at Stanford, I was a little nervous since I know how very careful and conscious they are about what they eat. When my husband came home, he  told me that, this tart was very popular, and was the first food that was gone that night. WOW, I guess even the most food conscious people in the world like it. I can say no more ...
For the sweet pastry:
1/2 cup + 2 tbs chilled unsalted butter, cut into pieces-put the butter in the freezer for 5 minutes 
1 1/2 cup all purpose flour
1/2 cup confectioner sugar
a pinch of salt
1 egg, lightly beaten
Put all ingredients, but lightly beaten egg onto food processor. Pulse use 1 to 2 second pulse until most of the butter is the size of a peas. Add lightly beaten egg and pulse again until the dough just start to form a small clump. 

Transfer the dough onto work surface, form into a disc, then wrap in plastic. let the dough or pastry chill in the refrigerator at least 2 hours.
Roll out the pastry to fit  the prepared tart pan (13½" by 4") that has been greased with butter, trim off the excess. Refrigerate for 30 minutes.
Preheat the oven to 375⁰F, place a piece of  parchment paper on top of the pastry, add beans, or baking bead, and bake for 20 minutes. Take the pastry out from the oven, remove the beans and the paper, bake another 15 to 20 minutes more, or until golden browned on the edge. Set aside to cool completely before adding the filling.
For The Crème Pâtissière:
8 fl oz milk
3 egg yolks
2 oz sugar
2 tbs flour
1 tsp vanilla extract
Strawberry, cut in half
Blueberry,  
Kiwi, peel-cut in half, then slice
Apricot jam, optional
In a small sauce pan, heat the milk over medium heat. Meanwhile, whisk the yolks and sugar until light and creamy, stir in vanilla extract fold in the flour. Pour the milk gently into the egg mixture, whisking constantly. Return this mixture back into the sauce pan, bring to a gentle boil, keep stirring and whisking until it  is thicken. 
Transfer crème pâtissière to  a bowl, cool at room temperature. Stir frequently to prevent a skin forming. When it is completely cool, cover the surface with plastic wrap. Refrigerate until very cold.
To assembly: spoon the cold crème pâtissière into the tart cell, arrange the fruit or the berries and the kiwi over it. 
Heat the apricot jam in a microwave until liquid. Glaze the fruit with pastry brush. Serve the tart on the same day.
Blueberry in the Herb Garden, we normally not able to taste the fruit as some 
other creature will harvest them first. 
But, just to see that it actually gives fruit is enough to cheer us up.