I was pretty surprise when
Celine
of Celine's Cuisine e-mail
me
and requested an
interview
.
Of course I accepted, in fact I feel honored to be interviewed by a professional cook like Celine. Many of you probably already known her from
her cooking classes
in Southern California, as well as her beautiful and delicious
blog
.
Thank you so much
Celine
,
I had fun answering your questions!
Curious about me and  really want to
see me
, why not visit her blog?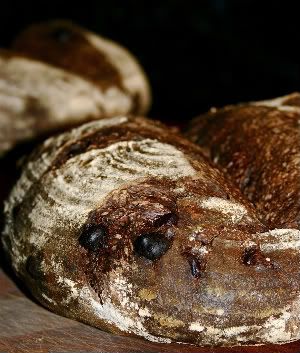 I can not wait to share with you what kind of bread I've made this week. This is becoming my new favorite bread after
Norwich Sourdough
that I make on a regular basis. I found the recipe of this Pane al Cioccolato when visiting
YeastSpotting
, and immediately attracted to
this (@ ToxoBread) 
particular bread.  Couldn't wait that long, so here it is. I hope you like it as much as I do. I'll be making this pretty often. 
Bake with yeast (wild or baker's) or make a dish starring bread.

Post about it. Please include a recipe/formula, or a link to one, or some indication of how the bread was made. Also please include the word

"YeastSpotting"

, with a link to

this page.

Submit your post

here

. Please submit it during the same week it was posted.
Thank you to
Jude
for posting this delicious bread! I am totally in love! Oh, one more thing, don't forget to  visit
me
 at Celine's
blog
?