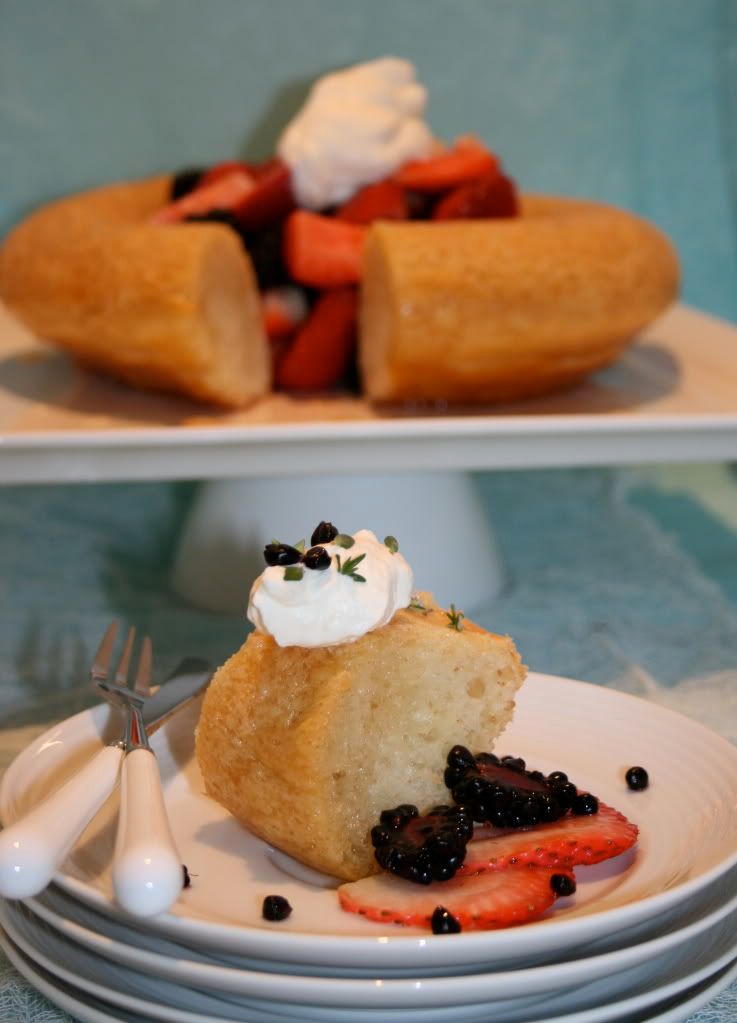 I tend to like dessert that has the same characteristic of a bread. Anything made with flour and yeast base dough. I find it very satisfying, especially if I can serve them with seasonal fruit. Savarin is one example of this dessert I am going to share with you. If you make BABA before, this Savarin is exactly the same only baked in a different mould (bigger, rounder, with hole in the middle). And, unlike BABA, it doesn't contain any dried currants in it.
The dough is enriched with butter and egg, resulting the light, soft, and spongy. The spongy texture it gets from the yeast is perfect  to soak up all the Rum syrup, or any syrup of your preference. Just  remember not  letting  your dough rise to much at the  first rise, as this will make your Savarin becomes too fragile, and the the least thing you want is having bread instead of Savarin. Hope you will like this as much as I do!
Savarin:
Adapted from Baking With Julia
⅓ cup + 1 tablespoon lukewarm water
2 teaspoon active dry yeast
1 tablespoon sugar
¾ cup all-purpose flour
1 large (room temperature) egg, lightly beaten

2 tablespoons (room temperature) unsalted butter, cut into pieces
A few cups blueberries, blackberries, and/or raspberries, strawberries.

Put the lukewarm water in a bowl, sprinkle over  the yeast and the sugar. Leave for 5 to 10 minutes to bloom.
Place the flour in a food processor, add the yeast mixture. Mix briefly. Add the egg, and mix well. With the machine still running, start adding the butter a little at the time. Continue to process until the dough is elastic, shiny, and start pulling from the side of the bowl. 
Transfer the dough into a clean bowl. Cover with plastic, let the dough rest in a warm room for 20 minutes, or until the dough is just slightly risen. The dough should feel very light. 
Take out the risen dough and shape into log to fit into an 8-inches Savarin mold that has been grease with butter. Cover with a clean kitchen towel, let it rest until its double or fills the mold, about 1 hour to 1½ hours.
Bake in a 400⁰F oven for 20 to 25 minutes until golden, and it start to shrink or pull from the side of the mold a little. Un-mold the Savarin onto a wire rack, cool completely.
Meanwhile, make the Rum Syrup:
Boil gently 1 cup sugar with 1½ cup water until a little bit syrupy. Cool the syrup until lukewarm before adding about 3 tablespoons (or more) rums.
Just before serving, brush the Savarin with rum syrup (as much or as little as you wish) until it has absorbed completely, just remember to leave some of the syrup for the berries. 
Mix the berries in a bowl, add the reserved syrup and mix. Serve the Savarin with berries and crème Chantilly (sweeten whip cream)
Another recipe to submit to  
Yeast Spotting
 (
why not?, the recipe has yeast in it, so it's qualified for the event
), created by
Susan from Wild Yeast
.
There will be many delicious sweet and savory bread recipes to enjoy, so make sure to visit her blog. To join this event is very easy, here is how:
Bake with yeast (wild or baker's) or make a dish starring bread.

Post about it. Please include a recipe/formula, or a link to one, or some indication of how the bread was made. Also please include the word

"YeastSpotting"

, with a link to

this page.

Submit your post

here,

 and please submit it during the same week it was posted.