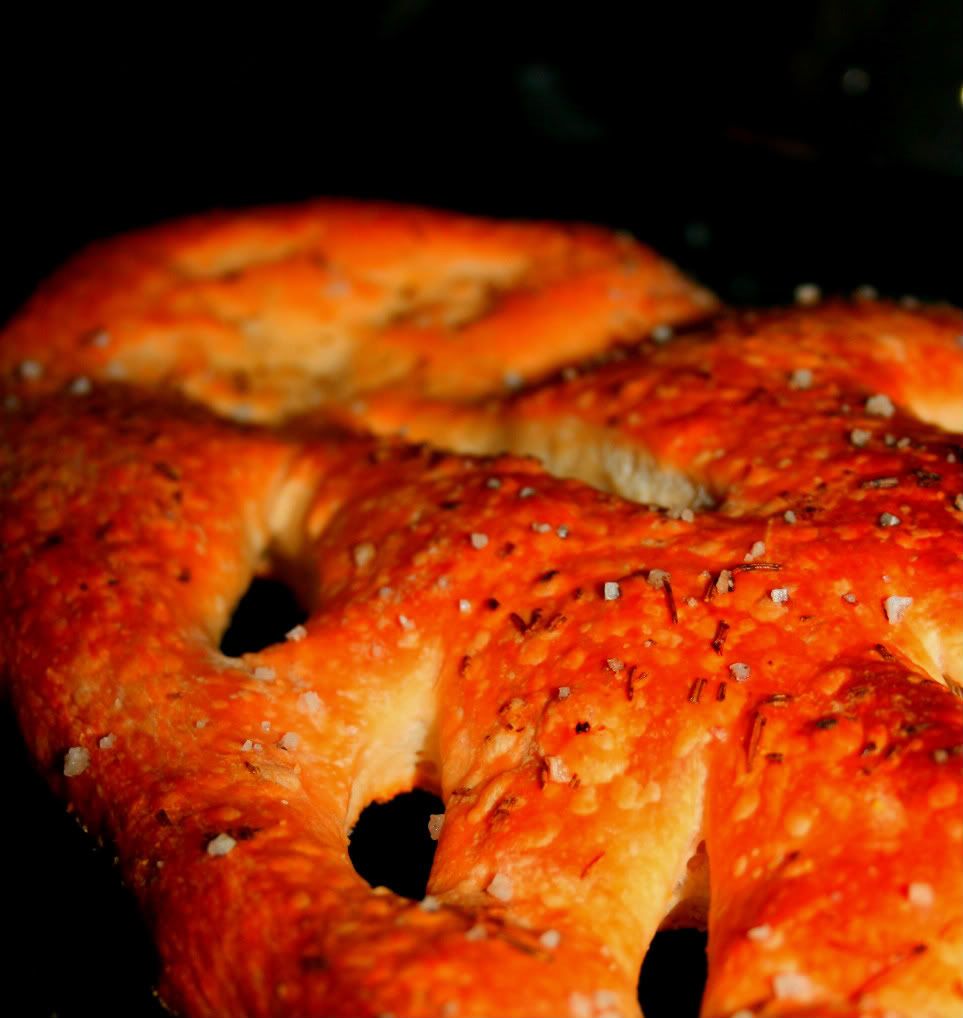 NO, don't worry!
It is not as scary as its sound!
If you armed with patient, most likely you will be able to achieve good result. That's it! Patient is the key, as the dough must rest in the refrigerator between 24 to 36 hours. The book stated that, you should not be tempted to skip this chilling period, or else you will not be able to achieve Fougasse with its characteristic chewy texture, and surface bubbles/speckles/oil glistened crust.
Oh, by the way, it is not that difficult to shape the dough either, check
here
and
here
you'll see what I mean.
Baking with Julia, written by: Dorrie Greenspan
6½ cups unbleached all purpose flour + 1 tbs salt, mix
2 cups luke warm water + ¼ cup garlic infused olive oil, mix
½ cup warm water + 2 tablespoon active dry yeast, dissolves and it bloom (about 5 minutes)
Herb of your choice, for flavoring (I used Rosemary)
Fleur de sel or Kosher salt, for sprinkling
Put the flour in a mixer bowl, make a well in the middle, pour the yeast mixture, and the water-garlic infused olive oil. Process on low (with dough attachment) until al ingredients to mix together, add a few drops of water if its too dry. Increase the speed to medium high, and continue to mix for 10 minutes. The dough should be soft, moist and very elastic, and transparent when stretch,

like this!

.
Turn off the machine, shape into bowl, place on a lightly oiled clean large bowl. Cover the bowl tightly with plastic wrap. Let it rise at room temperature for 1 to 1½ hours. Then fold, see

here

how to fold. Rest for another 45 minutes to 1 hour.
After the second rest, fold the dough again. Cut into 3 pieces, shape each pieces into a ball. Place each ball into ziplock bag, refrigerate for 24 to 36 hours.
About 1½ hours before you are planning to bake the dough, remove them from the refrigerator. Place the dough on a lightly floured surface, dust each dough with flour, cover loosely but completely with plastic (to prevent having the top go crusty). Let the dough rest for 1 hour until reach room temperature, and feel spongy.
Working very gently (you definitely don't want to knock out the air that you've work so hard to create it), place a dough (cover the other 2 with kitchen towel) on a lightly floured surface. Gently pull the dough to make a triangular shape. Place the dough on a cornmeal-dusted baking sheet, cover while you do the rest.
Brush the loafs with oil, sprinkle with the herb of your choice, and dust with coarse salt. Let them rest for 10 minutes.
Bake at 450⁰F oven for 20 minutes or until nicely golden. Transfer them to a rack, and let them cool completely before serving.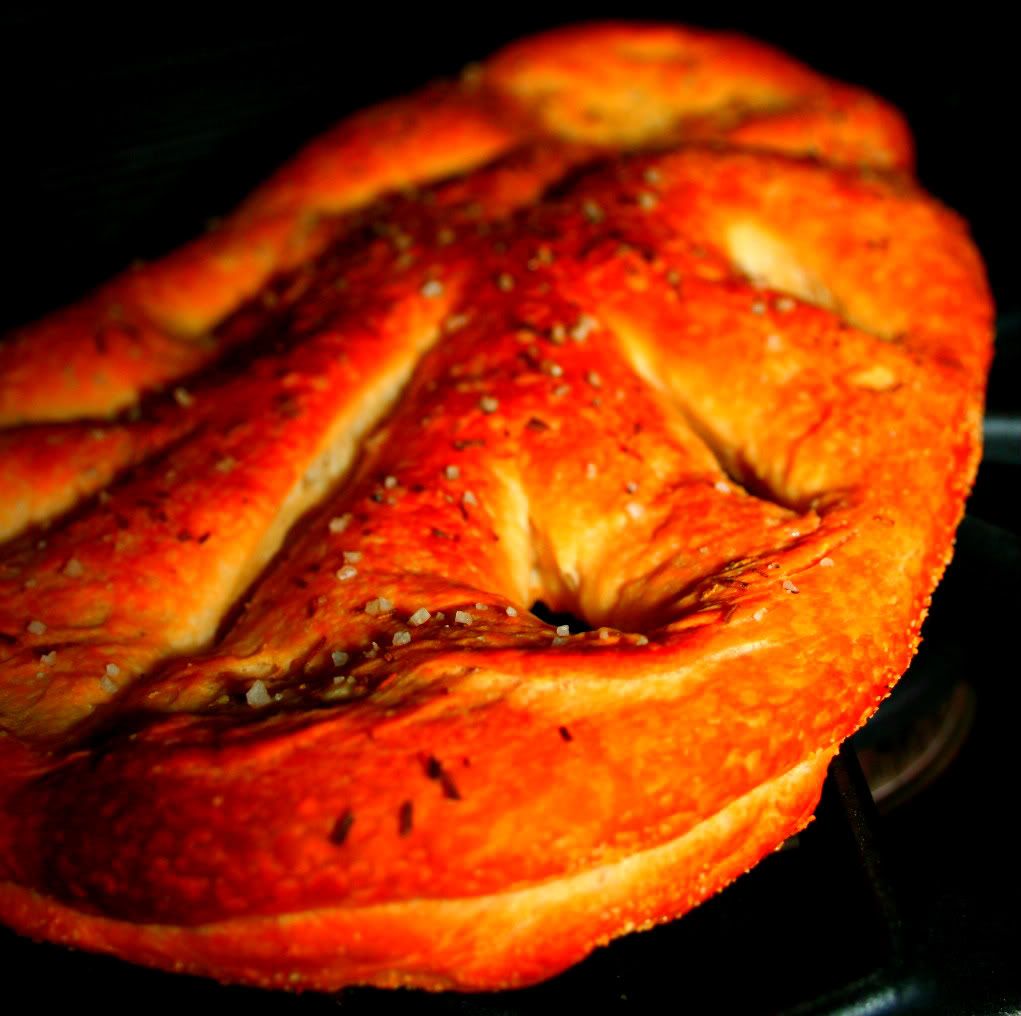 Mine was simply flavored with fleur de sel and rosemary, of course you can personalized your own. The oil I used was garlic infused olive oil (very good, if you fancy garlic, but then you can't have Bill (the awesome True Blood dude as your boy friend, hmm ... ). It was so good, that I will make this bread on a regular basis, well, at least once a week. Still not convinced? Maybe I should ship one to your front door....
Proudly sending my FOUGASSE to
Yeast Spotting
event created by
Susan from Wild Yeast
.
There will be many delicious sweet and savory bread recipes to enjoy, so make sure to visit her blog. To join this event is very easy, here is how:
Bake with yeast (wild or baker's) or make a dish starring bread.

Post about it. Please include a recipe/formula, or a link to one, or some indication of how the bread was made. Also please include the word

"YeastSpotting"

, with a link to

this page.

Submit your post

here

. Please submit it during the same week it was posted.
You will absolutely adore the speckled, oil-glistened crust from this delicious flavored of your choice flat bread!