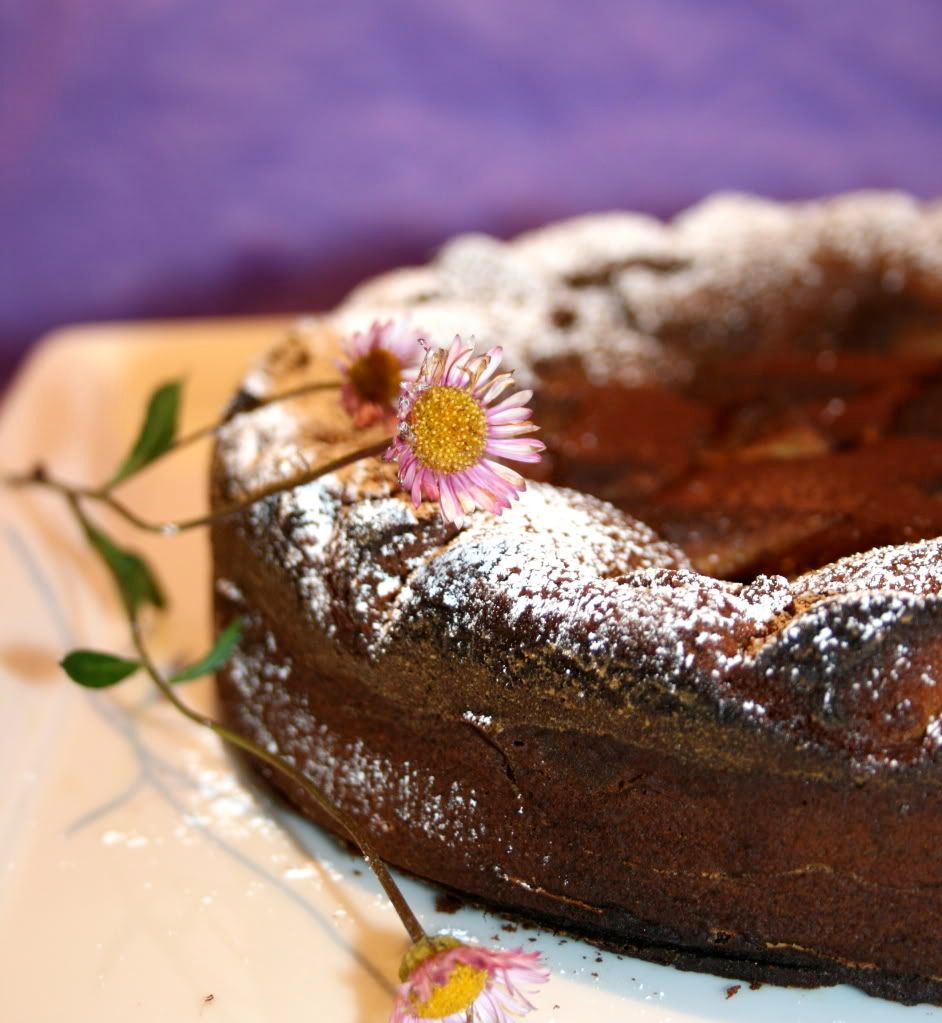 If you like dark chocolate and marzipan, then this cake is for you. It is pretty simple to make, almost effortless, and tastes delicious! Of course you don't have to put marzipan if you don't fancy it. 

ingredients:
5 eggs, separated
⅔ cup superfine sugar
2 tbs all purpose flour
¼ tsp salt
4
ounces
unsalted butter
8
ounces
- 70%
bittersweet chocolate
, cut into small chunks
9
ounces
marzipan,  cubed
Preheat oven to 375⁰F. Butter well a 9 inch spring form cake pan, line the bottom with parchment paper, and butter the paper as well. 
Melt the chocolate and butter together in a large heatproof bowl over barely simmering water, until almost melt. Remove from the heat, and  stir until smooth, let cool a little bit. Add ⅓ cup of the sugar and the yolks, stir with rubber spatula, just enough to mix . Add the flour and the salt, fold and set aside 
Place the  egg whites in a mixer bowl, process on medium low until the egg whites starting to foam. Increase the speed to medium high, starting adding the remaining ⅓ cup of sugar a little at a time. Continue to process until  form a soft peak.
Take about a ¼ of the egg whites and mix onto chocolate mixture, add the rest of the egg whites, fold gently just until all ingredients are fully incorporated.
Scrape the batter into prepared pan, distribute  the marzipan evenly on top of the batter.
Bake for 35 to 45 minutes, or until a skewer inserted in the middle comes out clean. Transfer to a wire rack, cool for 5 minutes. Un-mold and  let the cake cool completely. The cake will sink in the middle as its cool down, so don't panic! If desire, dust with confectioner's sugar and cocoa powder before serving.
Update (

Tuesday, May 19, 2009

):
I had a few question about marzipan vs almond paste. Here is what my understanding about them:
Almond paste
is made out of  of finely ground blanched almonds, sugar, and water that is cooked until it reaches a smooth consistency, then  almond extract is added for flavor. 
Marzipan
is made out of almond paste, sugar, and egg whites, but it doesn't require cooking. Marzipan is normally more pliable then almond paste, so it is very good  for molding or making decoration. 
For this cake you can use Almond paste or Marzipan, it is all up to you.