As you may already read in my
previous post
about
colomba # 1
,  
Cindy
came out with the idea of creating this event called "
Happy Baking Easter
" which I think it is such a great idea to introduce COLUMBA. unlike Panetonne, columba is another festive Italian bread that is less known in the United Stated. This is the time where you can actually practice your skill of bread baking. It's not easy, but don't let that discourage you. You can choose to make it with fresh or dry yeast starter (
recipe here
), or with your sourdough starter (
recipe here
) The recipe is in Italian, but you can find the
translation here
. It's really up to you which recipe you use.
Back to the
EVENT
, you still have plenty of time to participate. last day submission is on the
April 18, 24:00 hour ROME time
. So, what are you waiting for? Go visit
Cindy
for more information on how to participate. It's easy, I promise!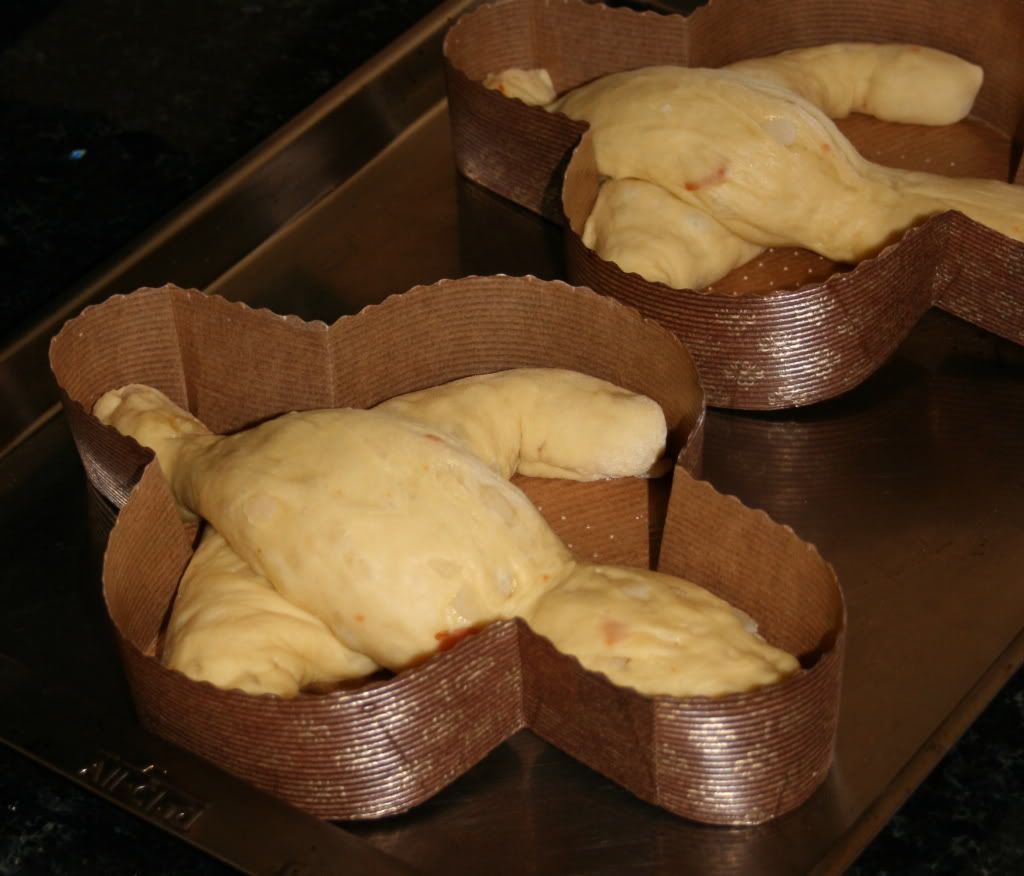 This was almost about ready to go to the oven, they were not rise as high as I wanted to be. I left the dough to proof overnight, I wonder if I left the dough a little longer maybe it would rise more. Not sure.

A very special thank you
NATALIA
, who invited and introduce me to COLOMBA which otherwise very foreign to me. 
I Thank you both  
Cindy
and
Natalie
who work really hard to translate
the recipe
in English. If you don't have any mould or having difficulty to find it in your area, you can visit
Cindy
how to shape the bread into doves shape. 
As you can see from the photograph, the texture is chewier and more moist compare to the one that made from starter using fresh yeast. You can take a pick of the texture using fresh yeast starter
here
. My family  personally like chewy bread, so we  clearly favor this one compare to the one I made earlier.  I still couldn't achieve the right texture, it was not shreddy (like Panetone) so, this was a
failure
just like
the one I made with fresh yeast
, only a bit better, just a bit. I need to practice more of making  panetone, pandoro  and columba. 
For me, Italian festive bread are always a little bit challenging and difficult, but it was fun and I really like to make them again !
Will do some more practice of course, so Easter next year  will be better than this. Hopefully!
Special thank you to 
Natalie
who introduced and kindly enough invited me to make  this special Italian Easter bread that otherwise I will never know about. Thank you to
Cindy
who provided us
the recipe
. And, thank to all of you (
ZORRA
,
ROSA
, AND
LIEN
) who also participate to bake Columba together.  
Are you interested in making this really delicious ITALIAN Easter Bread?
ROSA
had been successfully adapted the
recipe
that
Cindy
provided for us. Please visit
Rosa's for the recipe
.   
Update, 4/5/09 16:55 : Many of you want to know where I get the mold, so I think it's a good idea for me to tell you that I purchased them from
fantes
. I am not sure whether they ship overseas, but you can visit their
website
to find out. If you want to make your own,
LIEN
actually make the mold herself.
Visit her
, she has the
slide show
to show you how.