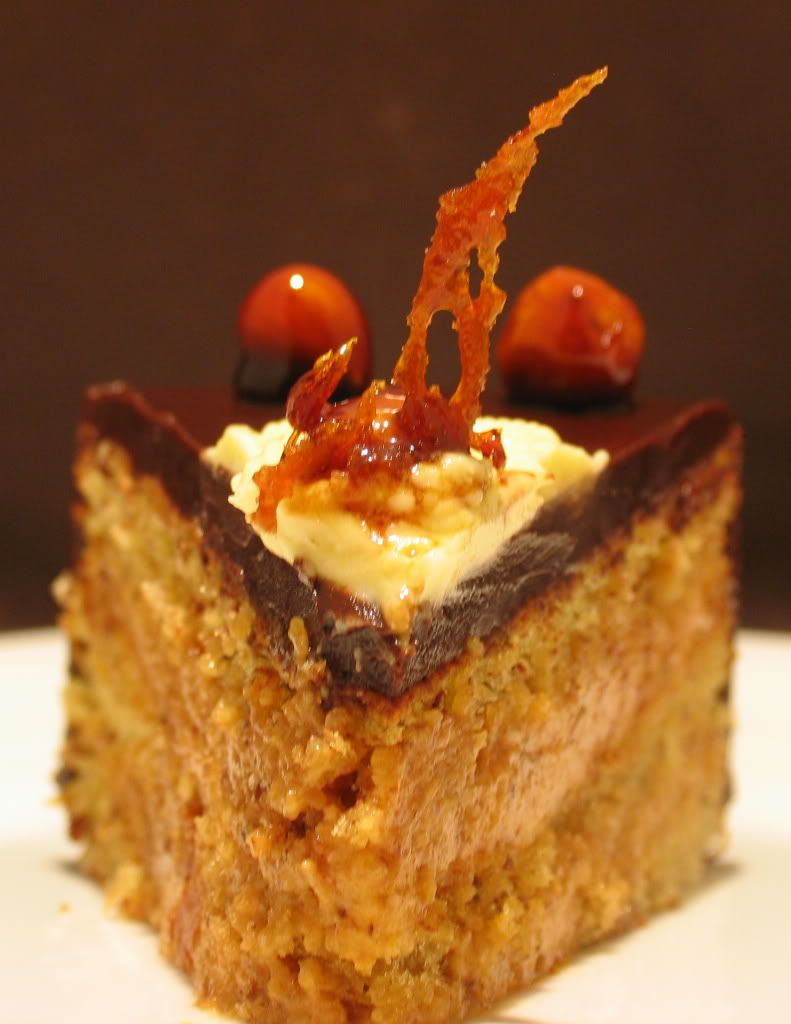 The only problem I had was skinning the hazelnut and to decided between using butter cream or heavy cream.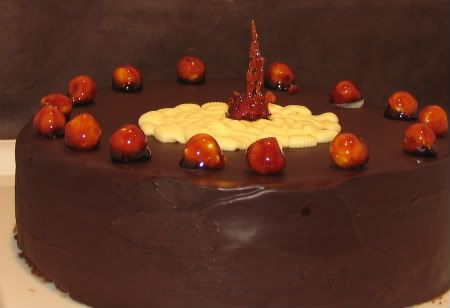 I photograph this cake when it just came out from refrigerator, so the chocolate ganache was still hard.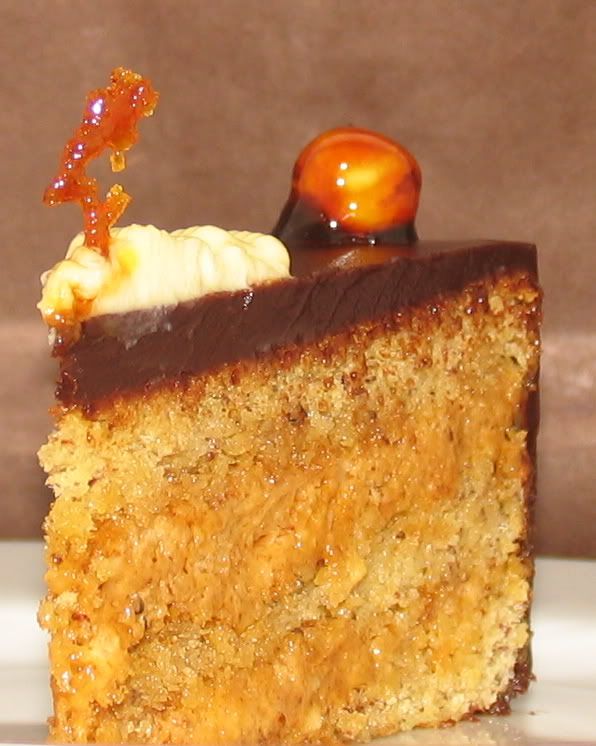 I found this to be the most annoying, boring and time consuming job. Couple years back, I used to be able to buy them at my local
gourmet store
, it was very expensive but, it's absolutely worth the money! Unfortunately, they stop to carry them. They said it didn't really quite sell well. I probably was the only costumer who bought it!
Finally, I've decided that I would skinned just enough hazelnut for the praline and some to decorate the cake. Honestly I wouldn't really mind to skinned the hazelnuts,
IF, this was for my son or my husband birthday cake.
And what about the cake?
I've cheated! Hey, this is not just about
"THE" challenge
, but also about being able to adapt to the situation that up set you and think creatively, I was still faithfully using hazelnut afterall.
Skinned or Not
!!!!!
I've used regular ground hazelnut, In fact (I've cheated again) store bought from "Whole Foods". I've also used the technique from
"The Perfect Cake" cook book by Nick Milgeiri.
I didn't want to jeoperdize my cake, to technique that I was not familiar with. I know, I know this what "the challenge" is
about. Hey, please! give me a break.., how about try to
skin your own nuts
, than you'll know what I feel.
Anyway, I was happy I did that. Otherwise, I (probably) couldn't meet the dead line and may no longer up to the challenge for this "nuts case"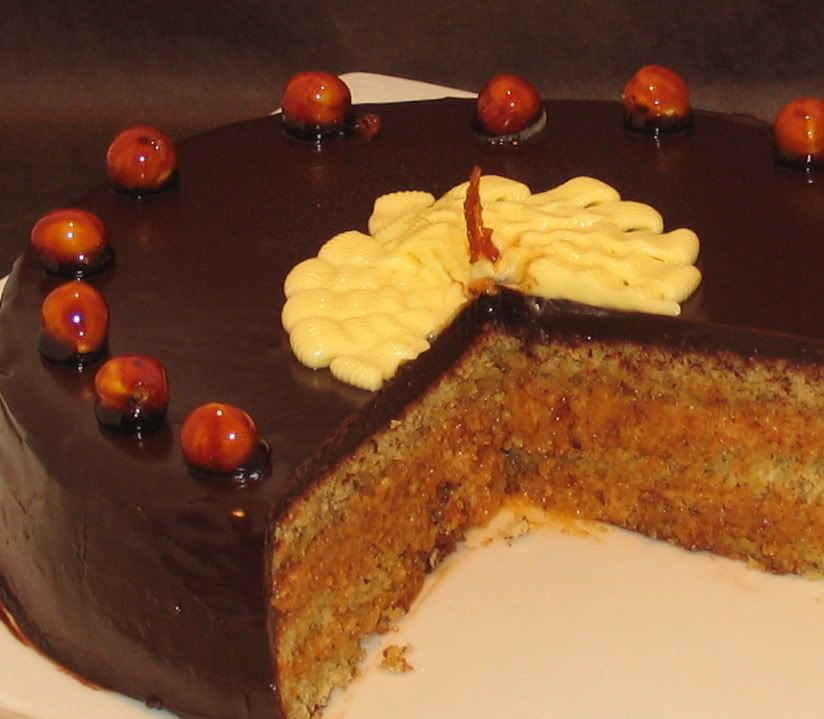 As you can see on my cake, I only needed about 2 - 3 tablespoons of butter cream for my decoration. If this was optional, I would decorate my cake just with candied hazelnut.
I personally think it's more attractive that way. But then again, taste is a personal matter. Some people just love decorate the whole cake with butter cream. I am not one of those, unfortunately! Now I must confess, that I detest buttercream (please don't hate me, because I hate butter cream)!!!!
Again? Butter cream vs heavy cream:
I must confess again (how many confession that I have to say)? That, no matter how delicious people say about butter cream, I am still having difficulty to enjoy and appreciate it. Not that I don't like butter, I do! In fact,
I can't eat my bread without it
.
It just that I find butter cream has unpleasant after taste in my mouth.
For that reason, I've substituted the praline butter cream with a simple praline moose (my caramel was really dark and I've made a little bit more that the recipe suggested, as a result, you can see from the photos that my filling are quite golden). Voila, my problem solved!
I did though, made a small amount of butter cream for the sake of cake decoration, why didn't I use whipped cream? well, I was running out of heavy cream (used them all for the praline moose) and didn't feel like going to town just to pick up heavy cream. Besides, I've already exhausted from standing up and skinning the nuts!
So, for the sake to decorate the cake, I used the vanilla butter cream recipe from Williams-Sonoma's CAKE Cookbook and used only a third of the recipe. So, what happen to the left over butter cream?
Sorry, tossed in my garbage bin
!!!!. I know.... I am that bad! What ashamed, what do you want me to do with it?
I had no major problem here. I can pour and make a smooth glaze on top of the cake. Done that a lot and am quite confident about this. And yes, this was the easiest job on earth (compare to skinning the nuts! if you know what I mean) But wait, I've used my favorite chocolate for baking (and eating) "Valrhona" 55% (
Snob!!!! Show off!!!
)
So, for those of you want to go the original way, visit
here
and good luck with skinning the nuts and making butter cream in hot summer weather!!!!!! Maybe, try to set your air conditioner to the coldest setting, I think your butter cream will well behave in return.

Praline Paste:
1 cup (4 ½ oz.) Hazelnuts, toasted/skinless
2/3 cup Sugar
Line a jelly roll pan with parchment and lightly butter.

Put the sugar in a heavy 10-inch skillet. Heat on low flame for about 10-20 min until the sugar melts around the edges. Do not stir the sugar. Swirl the pan if necessary to prevent the melted sugar from burning. Brush the sides of the pan with water to remove sugar crystals. If the sugar in the center does not melt, stir briefly.

When the sugar is completely melted and caramel in color, remove from heat. Stir in the nuts with a wooden spoon and separate the clusters. Return to low heat and stir to coat the nuts on all sides. Cook until the mixture starts to bubble. **Remember – extremely hot mixture.**

Then onto the parchment lined sheet and spread as evenly as possible. As it cools, it will harden into brittle.

Break the candied nuts into pieces and place them in the food processor. Pulse into a medium-fine crunch or process until the brittle turns into a powder.

To make paste, process for several minutes. Store in an airtight container and store in a cook dry place. Do not refrigerate.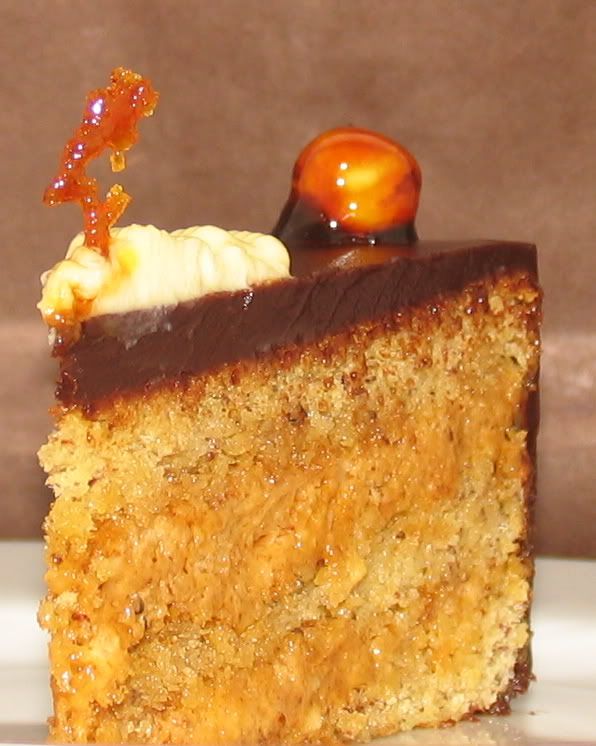 I must give a credit to the host,
MELECOTE
for choosing this challenging (indeed) gateau. Thank you!