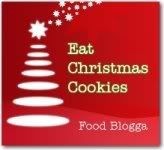 This will be my second entry to
Susan's
great event. I have submitted
my first cookie
, which I was pretty happy about. If you'd like to submit your delicious creation, check out
the rules
at her blog
here
Buttery, and crumbly, 
smooth, and slowly melt in your mouth..... 
Recipe From: Chocolate & Zucchini

Ingredients:
1 organic lemon, zested, reserve the juice for the glaze (you'll need 3 tbs lemon juice)*
1 cup + 2 tbs all-purpose flour
⅓ cup granulated sugar
1 tsp fleur de sel, or kosher salt
7 tbs (3½ oz) chilled unsalted butter, diced
1 large egg yolk
1 cup confectioner's sugar
Combine the first  4 ingredients in a large bowl until well combine, add the diced butter, rub all ingredients with your fingers, or pastry cutter (as you would make tart dough). Add the egg yolk, stir with fork until blended and the dough comes together and forms a ball (If you find that the dough is to dry, add a splash of water, if its too wet add flour).

Divide the dough into 2, form each of them into a log, wrap with plastic, and freeze for 30 minutes. At this point, you can freeze the dough up to a month.
Preheat oven to 350⁰F, line a baking sheet with parchment paper.
Remove one log from the freezer, slice into ¼" rounds (keep rotating the log after each slice, so it will keep the rounded shape)
Transfer onto baking sheet, leaving ½" in between the cookies. Repeat the process with the second log.
Bake the cookies for 12 minutes, or until lightly golden. Transfer to a rack to cool completely.
In a bowl, mix until well combine and syrupy the 3 tablespoon lemon juice and confectioner's sugar. Brush each cookie with the glaze, let stand until the glaze is set, about an hour. You can store the cookies up to a week at room temperature in an airtight container.
*
I used Meyer lemon for this cookies, resulting less tangy then the regular lemon. It all depends on your preference, use whatever lemon that is available in your area. Your cookies might taste tangier then mine. 
With only 7 ingredients (which, you probably have them all in your kitchen), and simple basic steps, You'll have delicious cookies. Both kids and adults will adore the delicate taste of this delectable goodies. 
Looking for another idea for cookie Recipes? 
Happy Baking!