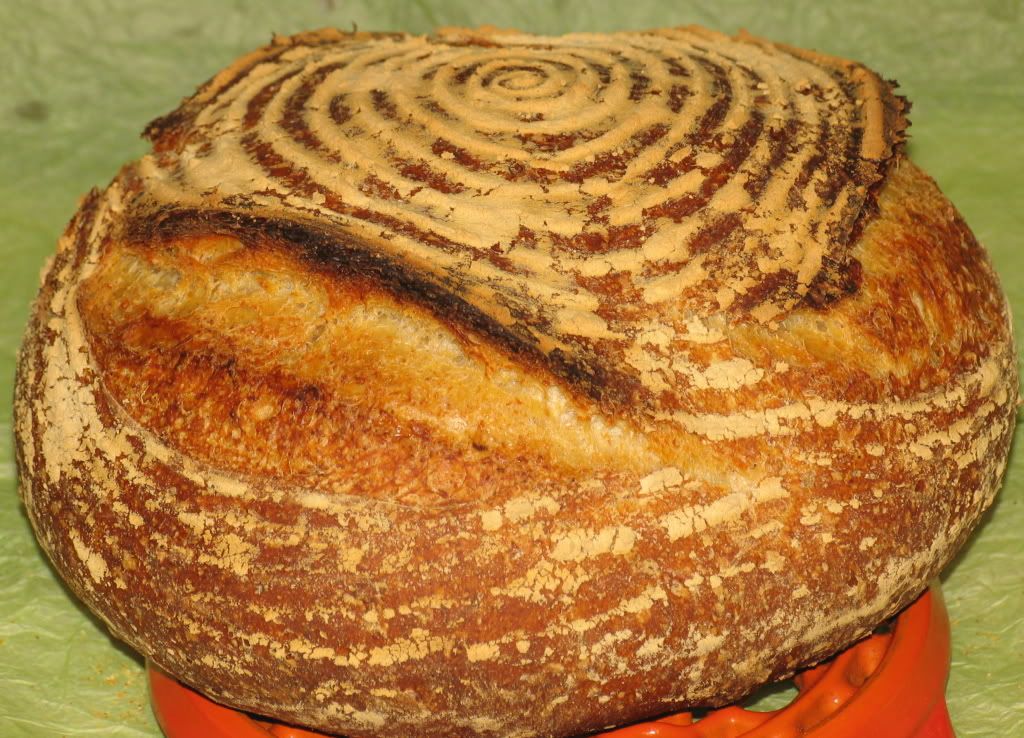 I was pretty lazy doing all of those strictly regimented folding-kneading dough, so I took a short cut and made another "
no-knead bread
". This method comes handy when the time to do the actual process of making bread is limited. I also know that, it always work successfully. And then end result? hmmm, I think it was very good enough to satisfy my constant craving of (tastefully and aesthetically pleasing looking) bread!
Here is my adaptation of the famous (and infamous, for some purist) NY Times No-Knead Bread.
3 - 3½ cups bread flour
1 tbs salt
1½ tsp instant yeast
1¼-1½ cups filtered water (bottle water)
In a large bowl, mix flour and salt together. Add the yeast, mix, add water, mix again until the dough comes together. It should be a l

ittle bit sticky

, if its to dry add a little bit more water, if its too wet add more flour (as simple as that). Cover the bowl with plastic wrap, let rest for 18 hrs- 24 hrs.
Fold the dough ( I know..., I know..., contradicting myself about not wanting to fold, but here, the fold was only take maybe 10 - 15 seconds to do it) onto it self (check the videos

here

, and

here

, on how to fold the dough), cover the bowl with plastic wrap. Let rest for an hour, if you don't have the time to proceed after an hour, put the dough in the refrigerator. It will be okay!
Turn the dough onto floured counter top, quickly gather the dough into a boule (ball), transfer to proofing basket (if you have one), or put the dough in a cookie sheet, make sure you put enough cornmeal, so that the dough won't stick to it. Cover with a clean kitchen towel for an hour, or so. The dough should rise nicely.
Place the baking stones on a lower rack in your oven, preheat oven to 425⁰F. When the oven reach the desire temperature, quickly spray it with water, shut the oven door quickly to trap the moisture from the water. Transfer the dough into baking peel (don't forget to put enough corn meal on your baking peel), slash the dough with sharp serrated knife, transfer to the baking stone, and bake for 5 minutes, then spray the oven (again) with water. Quickly close the oven door, continue to bake for 35 - 45 minutes until the bread is brown nicely, and it sounds hollow when lightly tapped. Or, if you don't have baking stone, bake the bread in a cookie sheet that you use for your last proofing. Have fun!
Want the original recipe from NYTimes? here is
the recipe
!