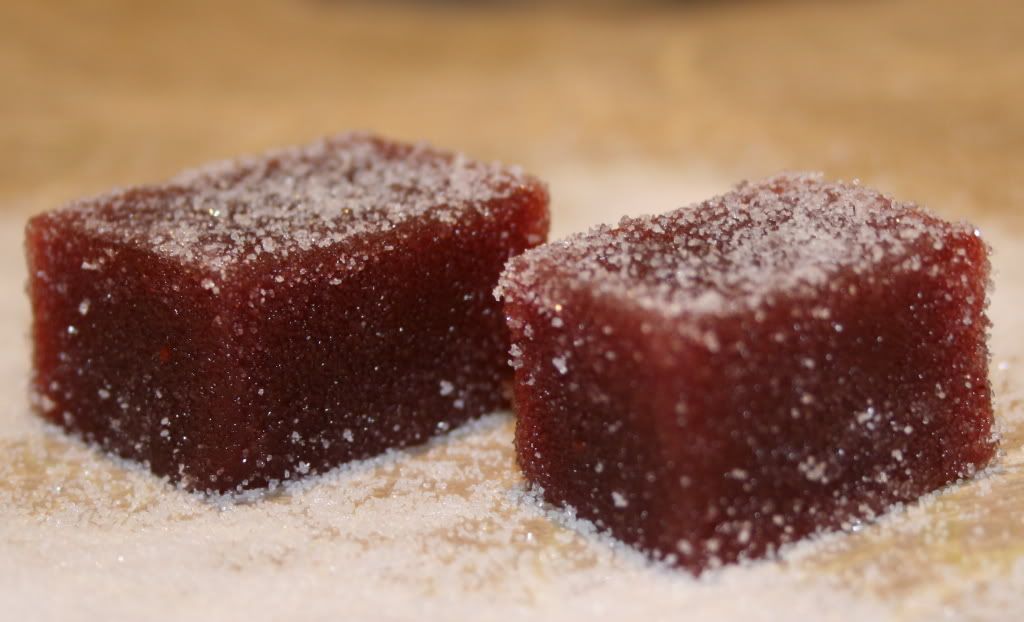 What to do with all of those left over cranberry? 

I bought 2 bags of cranberries, and only needed 1 cup out of them, so I left out with lots of left over. I made cranberry some for my cupcakes, and used the rest to make this jellies. 

My family really love fruit pates, especially my husband. He doesn't mind to pay a lot of extra money for this most delicious candy. So, I've decided that I'd made it myself. If he thinks that mine is at least the same as the one that he always get from
this patisserie chocolateries
, then I will be making them fairly often.
This recipe is from Gourmet magazine
Nov 2004 edition
1 ½ lb  firm-ripe Comice or Barlett pears, cubed (do not peal them)
12 oz fresh cranberries
1 cup water
3¾ sugar
2 tbs unsalted butter
3" cinnamon stick
6 oz liquid pectin
Rinse an 8" square pan, shake dry (don't dry it with towel, the water will help the pastic wrap adhere), line bottom and side with plastic wrap. Pressing into the each corner of pan to smooth. 
In a heavy large pot, bring pear, cranberries, water, 2¾ cups of sugar and cinnamon stick to boil over high heat. Stirring occasionally. Reduce the heat to low, and simmer until cranberries burst and pears are tender.
Discard cinnamon stick, carefully transfer the mixture to a blender, puree until smooth - strain, discard the solid, and return back to the pan. 
Put a small plate in a freezer to chill.
Bring the pear cranberries puree to a boil over a high heat, add the liquid pectin. Reduce the heat to moderate, and cook, and stirring frequently, until very thick and paste like, about 45 minutes (mine take a little bit over an hour).
To test: drop a spoonful of the paste on a chilled plate. It is ready when the paste remain in a firm mount (not run) when the plate is tilted. If the paste runs, continue to cook, and test every 5 minutes or so.
Remove from the heat, and immediately pour into prepared pan. Gently tap the sides of the pan to smooth and to eliminate the air bubbles.
Cool completely at room temperature, then cover the surface directly with plastic wrap. Chill until firm  at least 2 hours, up to 1 week.
Unmold the fruit pate onto a cutting board, cut into 1"square. Roll them in the remaining sugar just before serving.
So, did my husband like it?
Yes, he said it was good, and I should try different recipes using different fruit. Good idea, babe!