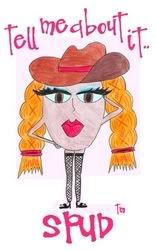 Another monthly
Potato Ho Down
recipe, this time I am making Italian potato pie from Liguria.  The dough, which was surprisingly very simple to make, was also (may I say) healthier then regular pie dough. 
The host for this month is  Marye,
@Baking Delight
, so if you happen to make any potato dishes between now and Wednesday, November 19th, you can submit your recipe to Marye. Don't forget to include the logo and a link to the
rules and regs
in your post and join the
Potato Ho's
for delicious  recipes and fun.
Recipe from: SAVEUR Authentic ITALIAN
Savoring the Recipes and Traditions of the World's Famous Cuisines
By The Editors Of Saveur Magazine
The Dough:
1¼ cups flour, sifted
½ tsp salt
1½ tbsp. extra virgin olive oil
½ cup water
Mix the flour and salt in a large bowl. Drizzle oil into the flour, mix with fork. Add water a table spoon at a time, continue mixing with fork just until the dough start to hold together. Transfer to a kitchen counter to,  knead for 15 minutes until smooth and elastic. Shape into a ball, cover with a damp kitchen towel and refrigerate for 2 hours.
Filling:
4 medium russet potatoes, cook until soft, cooled, peeled, mashed
1 egg, lightly beaten
¼ cup freshly grated parmigiano-reggiano
¼ cup well-drained ricotta
1 cup milk
2 tbsp. butter
freshly ground black pepper
salt
Extra-virgin olive oil
Preheat oven to 375⁰F
Mix the mashed potatoes with egg, parmigiano, ricotta, and butter. Add salt and pepper to taste.
Lightly oil and floured a 14" round pizza pan.
Roll out the dough to about 18" in diameter, transfer to the pizza pan and let  the dough hang over the edge about 3". Spread the filling evenly, gently stretch the dough over the filling toward the center of the pie, taking care not to tear the dough. Continue to work in circle until the filling is enclose. Leave a small hole in the center to let the steam escape during baking.
Gently indent the surface of the pie, drizzle with 1½ tablespoon olive oil.
Bake until golden, about 45 - 55 minutes.