This is my first entry for "muffin monday" event that will be host by
Dominique @ Cuisine Pleasure
. She was also the winner for the last muffin monday n⁰10. Her blog is in France, but you can see the
translation about the rule
of this event in English that has been translated by
Rosa
, who will be one of the team jury for the event!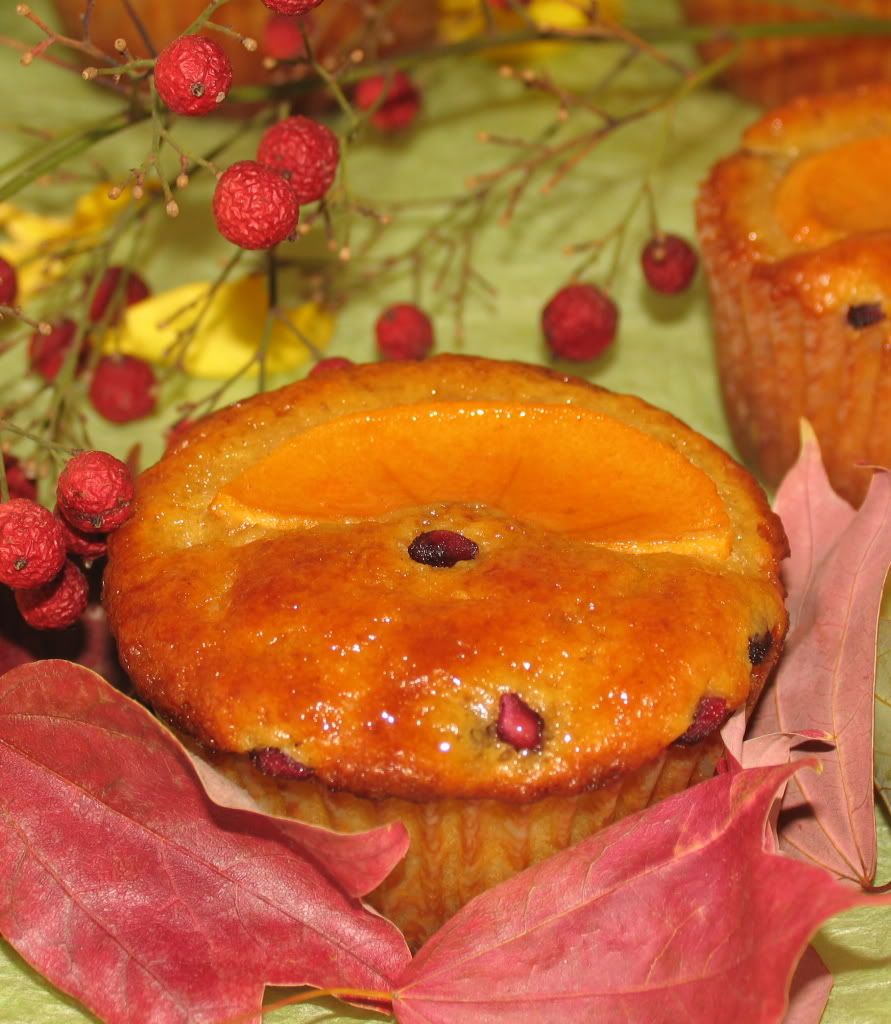 My mind couldn't stop thinking about this autumn theme, there were so many things to choose, pears, apples, pomegranates, persimmons, hazelnut, pumpkins, ah ....  the choices were endless. I finally able to came up with my favorite autumn fruit, Fuyu persimmons and pomegranates, in which I am fortunate enough having both of these trees in my garden. They both still have the fruits, though I was bit disappointed with my persimmon tree, I was still able to pick one fruit from it. That leave me with one persimmon left in my tree.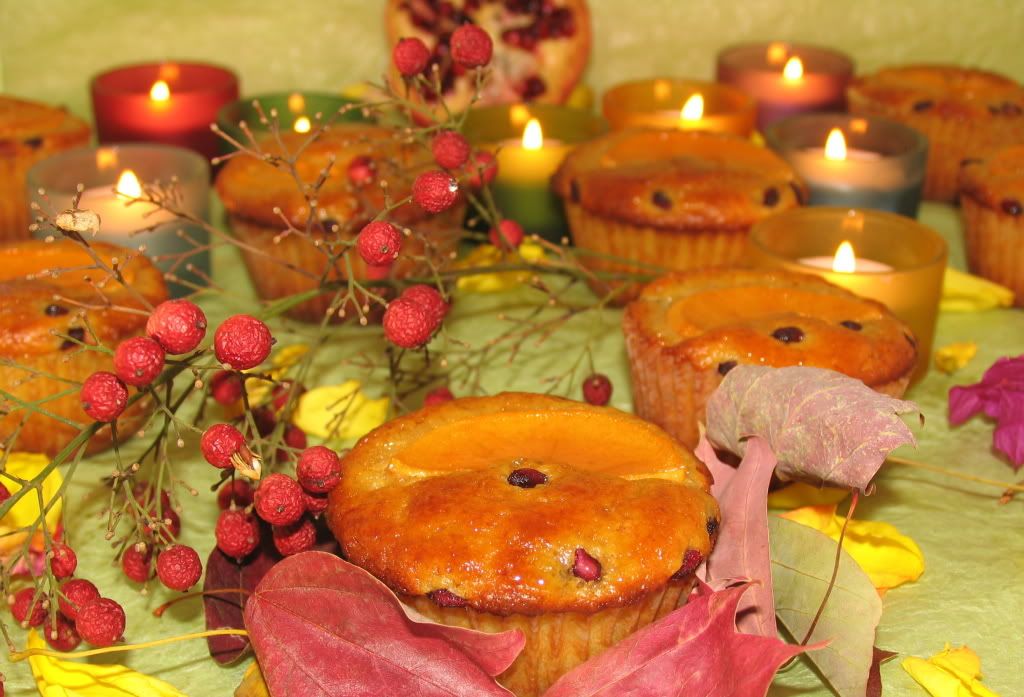 PERSIMMON & POMEGRANATE MUFFIN WITH MAPLE SYRUP
Recipe by: Elra
Make a dozen of delicious muffins
1¼ cup self raising flour
½ cup brown sugar
pinch of salt
1/4 tsp baking soda (optional)
1 tsp cinnamon 
½ cup Greek style yogurt
2 medium size eggs, or 1 extra large egg
1 - 2 tablespoon canola oil
1 very ripe Fuyu persimmon (peeled, cored, and divide into 2, very thinly sliced one of the half, chopped the other half). 
3 tablespoons (plus  more for sprinkling) pomegranate seeds
6 tablespoons pure maple syrup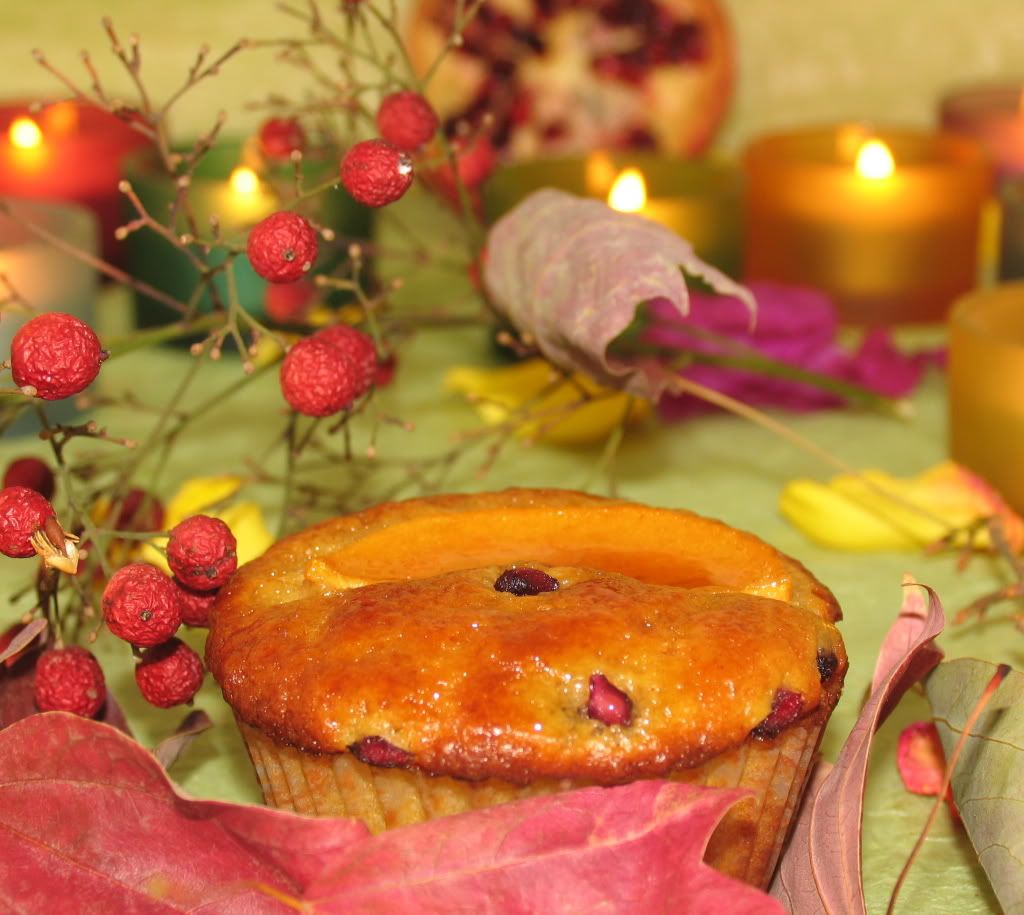 Preheat oven to 375F.
Line the muffin pan with muffin or cup cake paper cups.
In a large bowl, combine the self raising flour, brown sugar, salt, baking soda, and cinnamon. Mix with a whisk to aerate the ingredient. Make a well in the center. Set aside.
In a small bowl, combine until well mix, the yogurt,the eggs an canola oil. Pour this yogurt-eggs mixture into the well of the  flour mixture, add 2  tablespoons pomegranate seeds, and the chopped persimmons. Mix just to combine, do not over mix.
Distribute the batter evenly among the muffin paper cups, top each one of them with persimmon slices, and sprinkle with the pomegranates seeds. Pour 1/2 tablespoon of maple syrup on top of each persimmon slices.