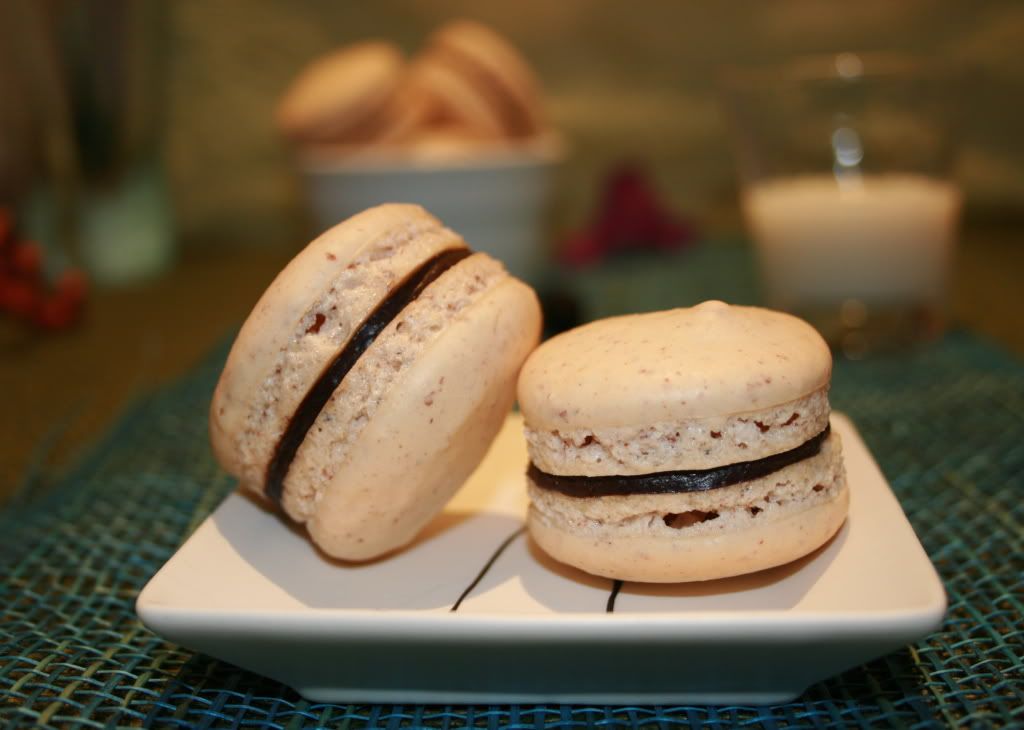 This recipe was adapted from various sources:
Helen @Tarlette
,
Who doesn't know Helen? she is the domestic goddess. Has very good article on Dessert magazine about
macarons
, and many more recipes of macarons at
her blog
.
Paris Boulangerie-Pâtisserie
4 oz/about 3 large egg whites
3 oz granulated sugar
5 oz finely ground almond
5½ confectioner's sugar, plus more for dusting
12 - 18 hours before you are planning to make the macarons, put the egg whites in a small bowl, cover with plastic wrap, and place the bowl on a kitchen counter top to aged.
Line 2 baking sheets with parchment paper.
Prepare the pastry bag with a plain nozzle tip (½" to ¾" in diameter)

Place the ground almond and the confectioner's sugar in a food processor, process to mix them together and make the almond finer. Sift onto a piece of parchment paper, discard any remaining large pieces ( I save mine for other uses). Set aside.

Whisk the egg whites until it begins to foam, add the granulated sugar in a steady stream and continue to whisk until the meringue is firm, but not too dry.

Add the almond into the meringue, and fold fold quickly with rubber spatula.

Helen

has an excellent tip on how to test if your batter is ready, take a tablespoon of the meringue and drop it into a plate. If the batter is flatten by itself, the macaron is ready, if not, give another few quick fold.
Transfer to a pastry bag, and pipe a 1" circles onto a parchment lined baking sheets, space them evenly in between about 1½" apart. Let the macarons rest at room temperature for an hour to harden their shell.
Bake @ 300⁰F oven for 10 minutes until the surface are dry and pale, but they are still quite soft inside.
Cool completely before filling.