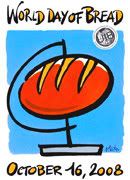 I couldn't describe how I feel when I found there is such a fantastic event called "World Bread Day" This event is the third event that hosted by  
Zorra, of kochtopf.twoday.net
For this special event, I thought it would be nice to bake 
an American beloved and well known bread
Recipe adapted from: Baking Bread At Home: A Traditional Recipe From Around The World
Note: this is the easier and shorter version of the traditional  San Francisco sourdough, which the whole process can take up the whole week to make, from start to finish. 
1/4 cold water
walnut size of leaven from previous baking 
1 cup stoneground whole wheat flour
pinch of ground cumin
1  1/2 cup warm water
1 cake fresh yeast
3  1/2 cups unbleached white bread flour
2  1/2 cups unbleached white bread flour
2 teaspoon salt
1/2 tsp baking soda
To make the leaven, cream the walnut size leaven from previous baking with water. Add the whole wheat flour and the cumin, knead to form a homogenous dough. Transfer to a small bowl, cover with plastic and let the dough ferment for 12 hours, or overnight. Or longer if you want more sour taste bread.
To make the sponge, mix the leaven, water and the yeast to make a soup, gradually add the flour, and start beating with your hand for 7 minutes to stretch the gluten. Cover the bowl with plastic, let the dough rest for 12 hours or overnight. The dough should be triple in volume.
Mix the flour for the dough with salt and baking soda, add the sponge. Mix to combine, then turn the dough onto counter top. Knead the dough for 10 to 15 minutes until its smooth and very pliable.
Divide the dough in half (take a piece of walnut size to safe for your next leaven, place in a bowl and cover with plastic, then refrigerate) and form a boule (ball) Place them on a baking sheet, cover with a clean kitchen towel, let them rest for another  1  1/2 hours to 2 hours, away from the draft.
Slash each dough with a sharp knife into your desire pattern. Transfer to the oven, after 5 minutes spray the oven with water (2 -3 sprays), close the oven door immediately. Continue to bake for another 30 to 35 minutes, or until golden brown and the bread sound hollow when slightly tap on their base. Cool the bread completely before serving.