Thank you so much to
Ayin
for giving me this beautiful award.
I am so honored!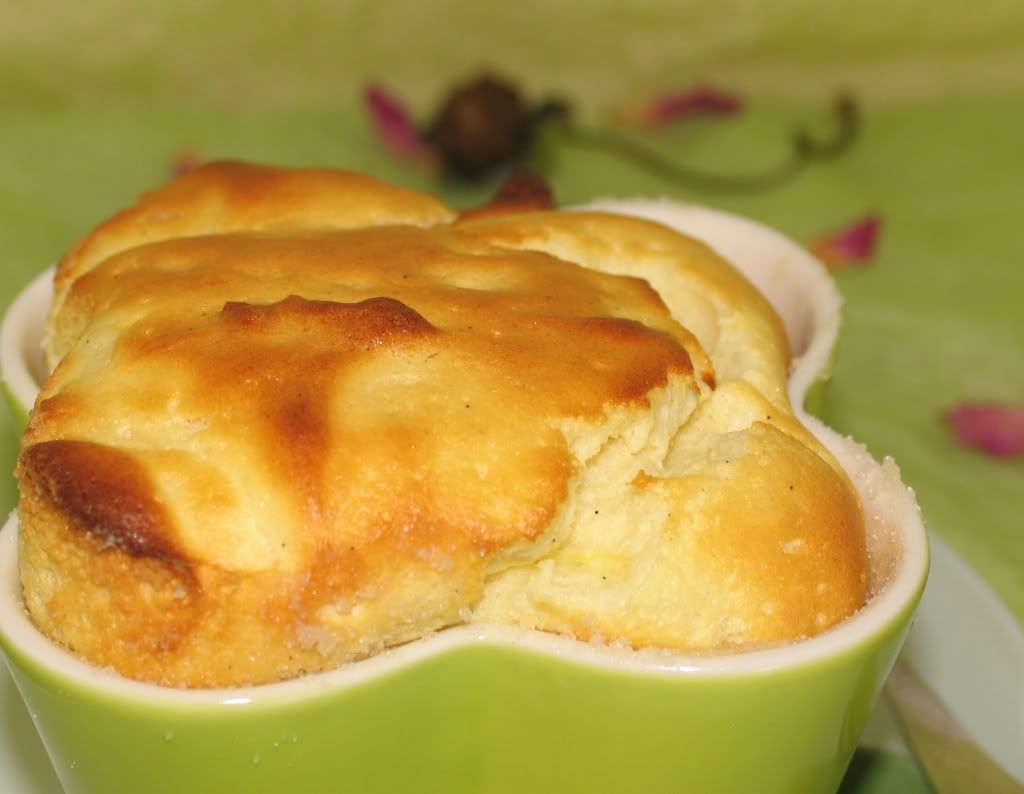 Recipe from: Pure Dessert 
by Alice medrich

Little note: 
From my experience, soufflés that made out of crème pâttisière, hold its peak/puffiness just a little bit longer.  This souffles was really high, about 1  1/4 inch high, it was only a matter of seconds before they collapsed. By the time I took the photos, every single one of them sank That is why the recipe suggested: Serve at once or immediately!
Ingredients:
1 cup quark
3 large eggs, separated 
3 tbs all purpose flour
pinch of salt
1 tsp pure vanilla extract
1/8 tsp cream of tartar
1/4 cup + 1 tbs sugar
The book suggested to serve this souffles with "Chunky Balckberry Sauce"
I serve mine with "Simple Raspberry Sauce"
(just raspberry with sugar, is that simple)
Preparation: butter and coat with sugar six 6 ounces ramekins 
Preheat oven to 375 ⁰F
Whisk quark, egg yolks, flour, salt and vanilla in a medium bowl.
Whisk the egg whites and cream of tartar in an electric  mixer until soft peak, add sugar gradually, continue to whisk until the egg whites are stiff but not dry.
Fold the quark mixture into the egg whites, gently dear. 
Divide the batter among the six ramekins.
Bake the soufflés until golden brown, about 15 minutes   (Note from me about the baking time: mine wasn't even browned  after 15 minutes, so I bake them for 25 minutes. The time, I think it will varies, according to your oven temperature) Duh? everybody know that!