Makes 1 large bread
1 (15 g) fresh yeast  
1  1/4 cups luke warm water
2 tablespoon olive oil
3  1/2 to 4 cups bread flour mix with 2 tsp salt
Cream the biga, fresh yeast and luke warm water by squeezing it through the finger. Add olive oil and flour and mix the dough with wooden spoon until stiff. Transfer the dough onto kitchen counter top and knead the dough for 1o minutes. Gather the dough into a boule, transfer to a large bowl. Cover the bowl with plastic wrap, let the dough rise  at room temperature for about 2 hours, until almost triple in size.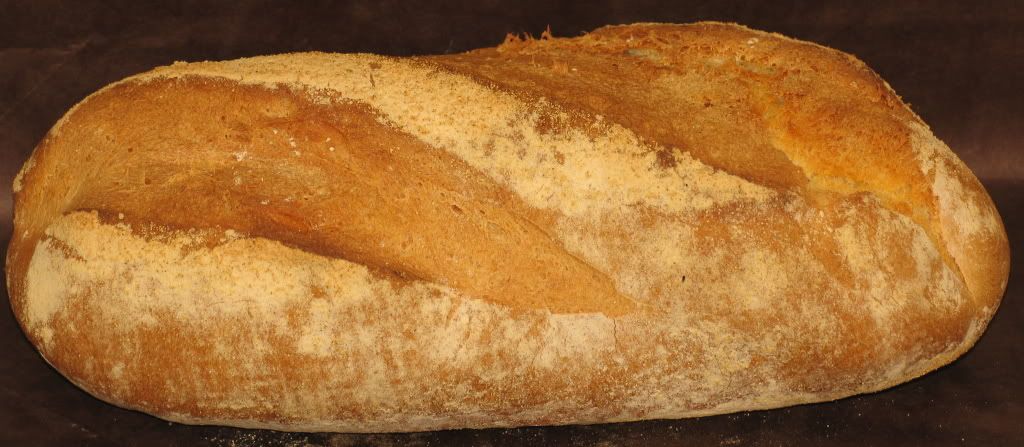 Return the dough onto a kitchen counter top, punch it down, and shape into torpedo, cover with a clean kitchen towel, and let the dough rest for another 1 to 1  1/2 hours, or until its double in size.
Preheat oven to 450⁰F.
Turn the loaf onto a baker's peel, scores with a sharp serrated knife and transfer to preheated oven, spray the oven with water*, then close the door immediately. Bake for 5 minutes, open the door and give the oven another few spray of water, then close the door, continue to bake for 30 to 40 minutes. 
Cool completely before serving.
* Spraying the oven with water,  will help the bread to develop crusty crust.