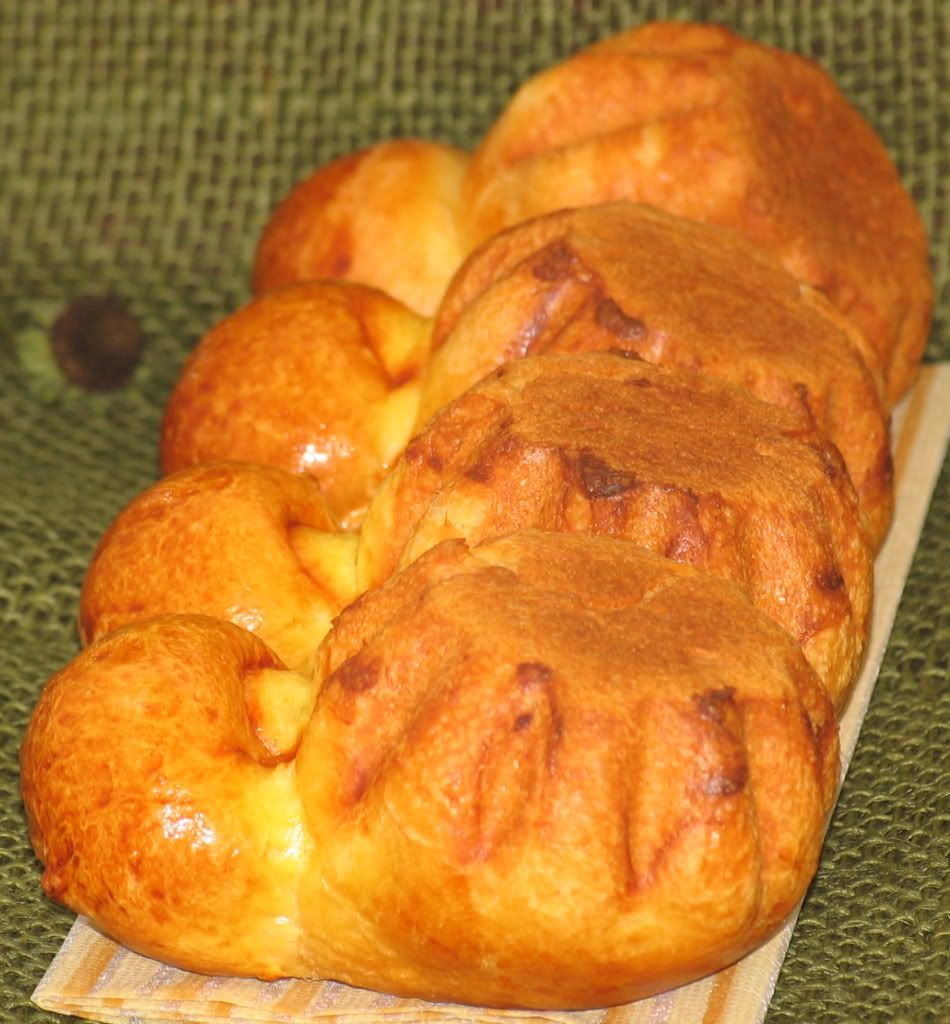 I was intend to make the classic  "brioche à tête", instead I turned  them (not intentionally)
 into funny shapes. Brioche is a brioche regardless what shapes it may turns out! 
So, Babeth had her comment for the photograph below, 
how about you? what do you think they look like, the photo above?
This is a poor man's brioche, and yes there is brioche for a rich man and for a middle class too. 
I didn't make this up... check out Peter Reinhart's book "The Bread Baker's Apprentice"
This is what
Babeth

,
wrote about the photograph above,
"May be they're bending to salute Marie-Antoinette "
Gosh, she's absolutely right! Don't they look like giving salutation to the princess? By the way, if you want to know her more check out her
video
(she was doing a cooking demo for

cuisines studio/TV in France

), you won't believe how gorgeous she is, especially when she speak French! 
What a coincident? I think she's right! LOL

Recipe adapted from "The Bread Baker's Apprentice"
Makes 12 - 16 petites brioches a tete, 2 - 4 large brioches a tete, or two 1 - pound loaves
1st make the sponge:

Stir together in a large mixing bowl 1/2 cup unbleached bread flour and 2 teaspoon instant yeast. Stir in 1/2 cup of milk until all flour is hydrated. Cover the bowl with plastic wrap, ferment until the sponge is rise and then fall back when you tap the bowl, about 30 to 45 minutes.
The dough, you will need: 
4 large eggs, slightly beaten with fork
3  1/4 cup unbleached bread flour
2 tbs granulated sugar
1 tsp salt
1/2 cup (1 stick) unsalted butter, at room temperature
Egg wash: mix 1 egg + 1 tsp milk, set aside
Mix flour, sugar and salt in a bowl, set aside.
Transfer the sponge onto electric mixer with the dough hook attacment, add the eggs and process on low speed until the dough is smooth. Add the flour mixture into the sponge, continue to mix on a low speed for about 2 minutes. Let the mixture rest for 5 minutes to develop the gluten.
After 5 minutes resting, set the machine into low speed and start adding butter, about one quarter at a time. Waiting until each addition of butter completely incorporated before adding more.
Transfer the dough onto kitchen counter top, knead for 10 minutes until the dough is very smooth and soft. Gather the dough into a ball shape, transfer to a lightly oiled bowl and cover with plastic wrap. Let the dough rest for 1  1/2 hours or until its double in volume.
The dough is now ready to be shape into a loaf or into petites brioches à tête*. let the dough rest for 15 - 30 minutes, or until the dough fill the loaf pan or the molds.
Brush the dough lightly with egg wash.
Bake for 30 - 35 minutes for the loaf or 15 - 20 minutes for brioche à tête.
* To shape the dough into brioche à tête, divide the dough into 12 - 16 portions. Take one ball of the dough, divide and shape  this dough into large and small  ball, place the larger  ball onto the brioche mold, with your finger tip slightly indent the top center of this dough, now place the smaller ball on top of it.