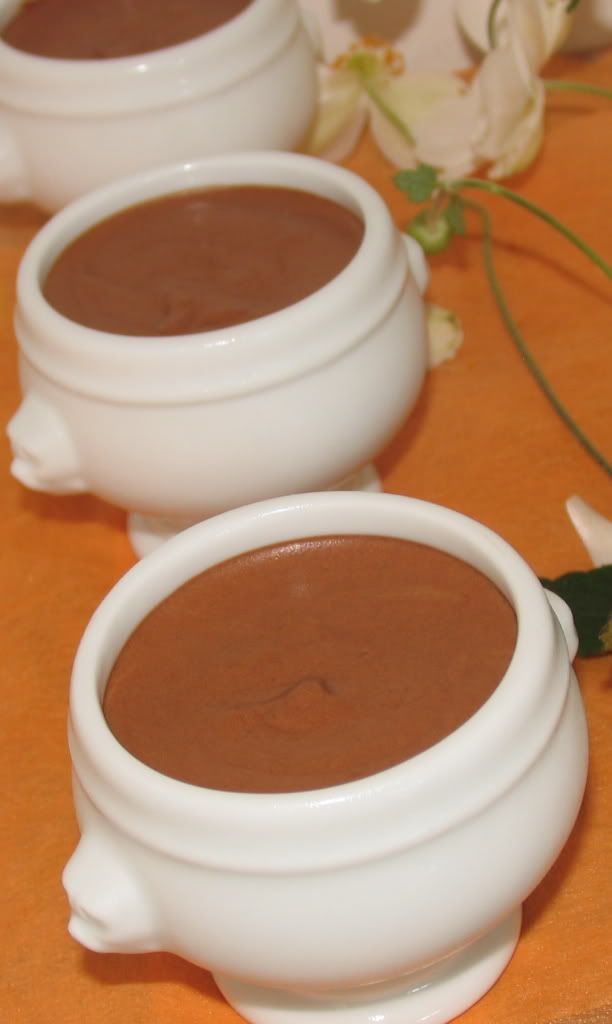 Mouse is  one of the dessert that is quick and easy to prepare. You can dress it up by serving this mouse in a fancy ramekins or beautiful short glasses. I like to serve them in the "pot de crème" mold. 
Recipe adapted from : 
Make 8 servings
4  1/2 ounces bittersweet chocolate, such as Valrhona Manjari (64%), finely chopped
1 ounce diced unsalted butter
2 tablespoon espresso or hot water
1 cup heavy cream, whip to soft peak, refrigerate
3 large eggs, separated
1 tablespoon sugar
Combine the chocolate, butter and espresso or hot water in a double boiler over a barely simmering water. Stir until completely melted. Take the chocolate mixture  out from the heat and cool at room temperature.
Meanwhile, beat the egg whites until foamy, sprinkle in the sugar and continue to beat until soft peaks form.
Combine the yolk into the cooled chocolate mixture, gently stir in about 1/3 of the whipped cream. Fold in the egg whites, just until incorporated then fold in the rest of egg whites and the whipped cream.
Spoon into 6 individual ramekins, refrigerate for at least 8 hours, up to a day.