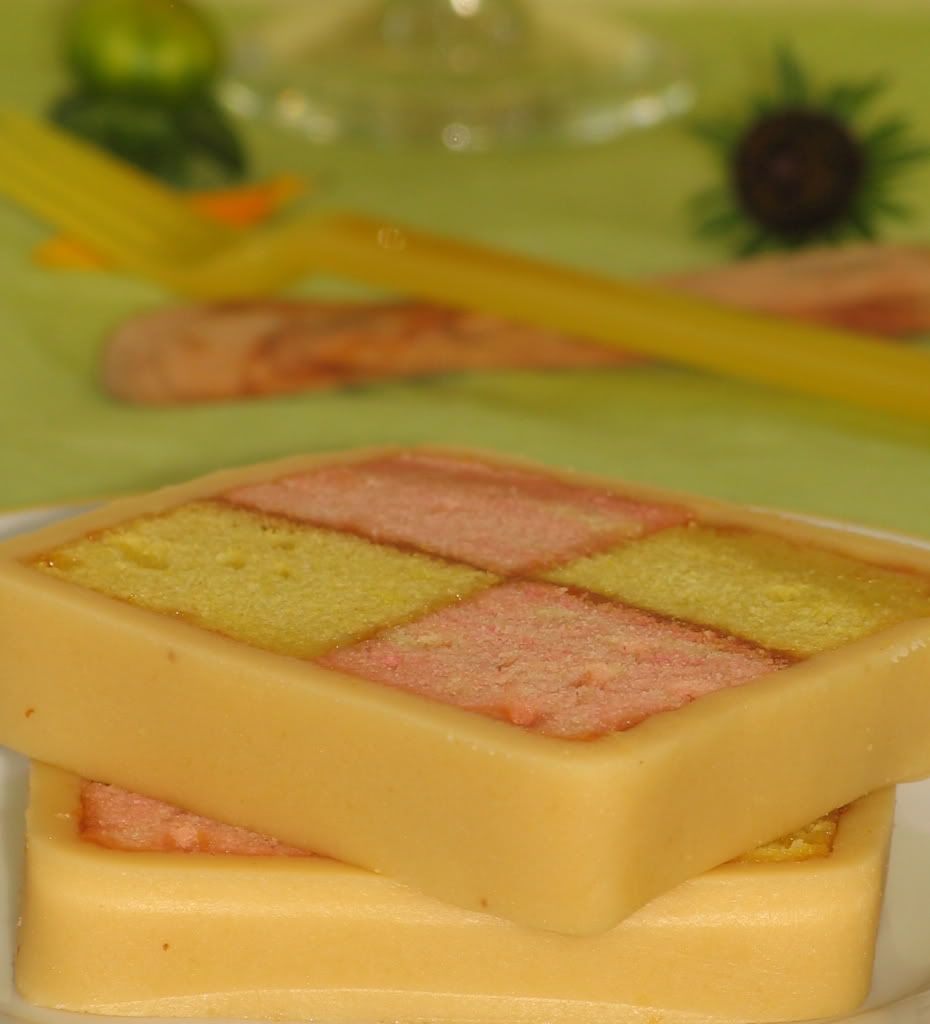 Anthonia, Food Glorious Food
will be hosting this exciting event to celebrate the very best of British food. Though I am not living in England, I really want to joint this event to show most of my friends and family that there are many good English recipe worth trying for.
For this event I made
"Battenburg Cake"
which was named in honour of the marriage of
Prince Louise of Battenberg and the grand daughter of quenn Victoria in 1884
.
The recipe below is base from "
Indulge
" book by
Claire Clark
, but only made half of the recipe. I also simplified the technique so that my sisters (who are still learning how to bake) won't be terrified to try this delectable cake!
For the cake:
1 cup unsalted butter, room temperature
1 cup all purpose flour
1 cup superfine sugar (castor sugar)
4 large eggs
1 tsp vanilla extract
1 tsp baking powder
red and yellow food coloring
For Finishing:
1/2 pound marzipan
a jar of apricot jam
icing sugar for rolling the marzipan
Preparation:
Preheat oven to 350F

Lined the base of a square 8" cake tin with parchment paper. Lightly grease the parchment and the side of the cake pan. Put a piece of wax paper on top of the parchment paper, which will act as a divider later.

Sift the flour and baking powder on to a piece of parchment paper. Set aside.
To make the cake:
With an electric mixer, cream butter and sugar until light and fluffy. In a small bowl, beat eggs and the vanilla lightly, add to to the creamed mixture a little at a time. beating well each addition.
With rubber spatula or a large metal spoon, fold the flour into the creamed mixture in three addition. Don't over mix.
Divide the batter equally in to two bowls. Add a drop of red coloring into one bowl and yellow into the other bowl, fold gently and once again don't over mix the batter.
Transfer one batter into one side of the cake pan and make sure it is level. Gently peel the wax paper to act as a divider. Spread the other half of the batter on the other side of the cake pan. Level the batter and trim away the excess wax paper.
Bake the cake for 35 - 40 minutes. Cool completely
Warm apricot syrup slightly. Cut each cake into 2 strips. Arrange them side by side so that you have red and yellow on the bottom and yellow and red on the top. Brush the join of each strips, so that they glued in between the strips.
Roll the marzipan in to about 1/8" thickness. Brush with apricot syrup and wrap the cake completely with marzipan.
*
To see my other British food, please visit my
Welsh recipe
.