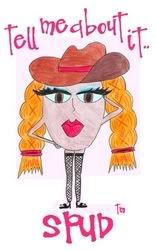 This is my first entry for this event and definitely will not be my last for sure!
When
Cathy (Noble Pig)
visited me on my blog, she commented and wished that, I enter my potato bread to "Potato Ho Down" event. So I sent an e-mail to August host,
Krysta (Evil Chef Mom)
to ask wether I can join and submit my first entry. I also asked if it's okay that I might not be able to submit my entry every month!
Her answer was "YES", I was very happy and I promise myself that I'll try hard to always participate every month.
So, here is my first entry: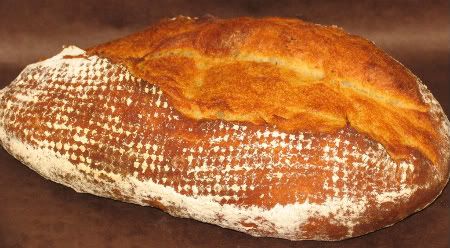 This was not difficult to make and was not taking much action in the kitchen, other then waiting for the dough to rise. Which, unlike any other dough, it only needed about 20 - 30 minutes for the first rise and 20 minutes for the second rise. This seems perfect for someone who feel that, they can't make their own bread (
Dwiana
, this is for you
).
I'd like to encourage you to (at least) try it once. Once you know how easy it is, before you know it, you'd be baking your own bread weekly.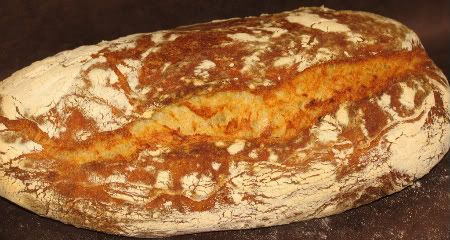 yield 2 loves.
They are delicious with crusty crust and pleasantly chewy on the inside with hint of potatoes. You won't find this kind of bread at your local boulangerie, at least not in my neighborhood!
I hope, that I convince you enough, how painless it is to make!
Recipe adapted from "Baking With Julia" written by Dorie Greenspan
1 1/2 pounds russet potatoes (about 3)
Clean, peel and boil or steam until soft or cook. Drain in a colander and let cool and dry completely. The potatoes have to be completely dry, before mashed. I did this at night and by the next morning, I have my potato completely dry.
Mash the potato with potato masher or

food mill

, do not process in a food processor (it will get gooey). Set aside
1 tablespoon active dry yeast
1/2 cup luke warm water
In a small bowl, dissolve yeast and water until the yeast is bloom, about 5 - 10 minutes
5 cups unbleached all-purpose flour
1 tablespoon salt
Mix flour and salt together. set aside
Transfer mashed potato into an electric mixer bowl, add flour and the dissolved yeast. With the dough hook attachment, process the dough on low for 2 minutes, then increase the speed to medium and continue to process for another 10 minutes. At the beginning of the process, the dough will look pretty dry, but it will get soften at the end. You might be able to hear slapping noise from the dough against the side of the bowl.
Prepare a large clean bowl and transfer the dough onto the bowl. Cover with plastic wrap, let the dough rest for about 30 minutes. It will be doubled in volume
Turn out the dough into lightly floured kitchen counter top, cut the dough in half.
Working with one dough at a time, shape the dough into a ball, then flatten it into a disc. Starting at the end of the farthest from you, roll up the dough toward you. Pull each end slightly, then gently roll back and forth.
Transfer the loafs on a floured kitchen towel, seam side down. Cover and let the dough rest for 20 minutes. Preheat the oven to 400F
When the oven is ready, spray the oven wall with water, and close immediately to trap the steam.
Turn the bread, seam side up into baker's peel or floured cookie sheet to transfer them into the oven. Spray the oven again and close it immediately. Bake the bread for 35 -40 minutes until brown.
Cool completely before serving.
Note:
if you slice the bread just after it comes out from the oven, you will end up with doughy bread.

Bread can be store in a freezer for up to a month, wrap in heavy aluminum foil (wrap it tightly) Thaw at room temperature still in its wrap.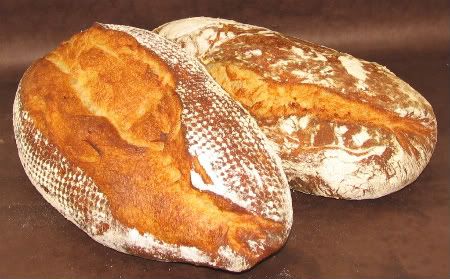 Enjoy and Good Luck!