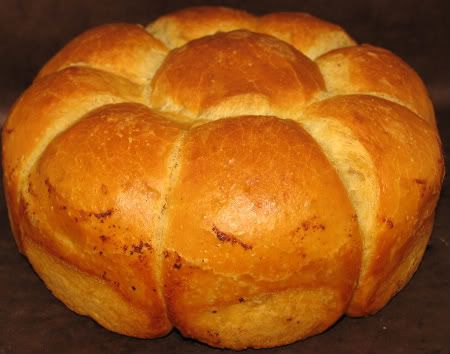 Originally serve with sprinkled confectioner sugar and vanilla sauce.
Recipe adapted from: Bavarian Cooking by Olli Leeb
Basic Yeast Dough:
1 3/4 lbs flour
2 oz yeast
1 tbs sugar
3 tbs lukewarm milk
1/4 lb butter at room temperature ( I only use 3 tbs butter), cut into small pieces
1 tbs lard - or clarified butter (I didn't use any)
1/4 lb sugar
1 tbs vanilla sugar
pinch of salt
1/2 cup - 1 cup lukewarm milk
2 eggs
Combine yeast, 1 tbs sugar and 3 tbs lukewarm milk in a small bowl until the yeast bloom.
In a large mixing bowl, add flour and make a hollow in the center of the flour. Add yeast mixture and mix a handful of flour with it.
Distribute the butter pieces over the flour ring, sprinkle with sugar and salt over it. Cover with clean towel and let it rest for 10 minutes.
Using a large wooden spoon, beat the mixture gently and add 1/2 cup lukewarm milk until bubble form in the dough. add more lukewarm milk if the dough seems too hard to work on.
Cover again and let the dough rest until its double in volume.
3 oz warm butter or 2  1/2 oz. clarified butter
pour the warm butter into 8"x3" round cake pan.
Devide the dough equally into 9 pieces. Roll each dough and place it side by side into the pan.
Cover the pan with a clean kitchen towel and let it rise once again. Meanwhile, preheat oven to 375 F.
Brush the dough with little bit of melted butter, then bake for 35 -45 minutes or until golden brown.
Serve warm with sprinkle confectioner sugar and vanilla sauce if you wish! I like mine plain and serve cold, since the bread is  pretty rich already!