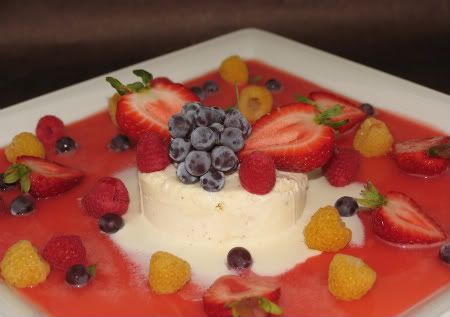 Vanilla, Honey and lavender Gelato 
Serve With Summer Berry And Champagne Grapes Soup
Recipe idea from: Charlie  Trottrer's  "Dessert" cookbook.
I was invited by 
Dwiana, The Adventure Of My Cooking Diary
  to participate  for
Red And White
 - event photography. I was a bit reluctant to do it, since I can't really consider my self a photographer, nor can I take a good photos. On the other hand, I thought it would be nice for me to make something for this special event. I will post the recipe when I come back from my vacation. 
So, here is my entry to celebrate INDONESIAN Independence day  (August 17th), which I will be in Indonesia/Bali to visit my mom, brothers and also my sister and (her 2 boys) who is currently living in Qatar will be meeting us in Bali. The day after Independence day, we will also celebrate Balinese Hindu's festival "Hari Raya Galungan", so all of us will go to our temple in the village, meet the whole family and relatives (hundreds of them, not joking!)
Selamat Hari Kemerdekaan Republik Indonesia.
p.s: I actually will be leaving for my vacation on Sunday, so I'll still be able to post my week-end bread and also MKMW for saturday.