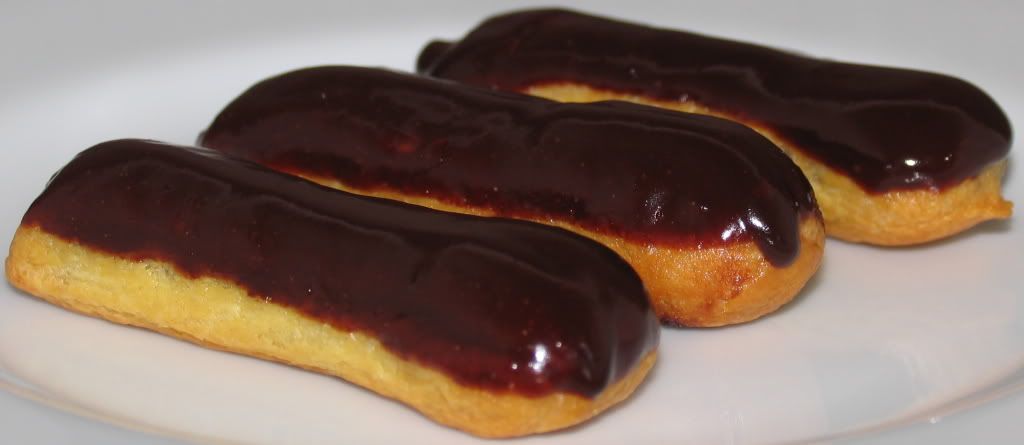 This is my 2nd entry for The Daring Baker Challenge!!!!!!!

When
Tony Tahhan
and
Meeta K
    announced the August challenge was going to be Eclairs, I was jumping ups and down with excitement! I thought I wouldn't be able to make it (because I was going on vacation), but since I made eclairs before and I dare to say, it never failed me. I've decided  to make it just before I left for my vacation.
I made different kind of choux pastry before, both sweet and savory!  This time though, (since I made this just a few hours before my departure to Bali), I only able to made the regular Pate A Choux.
It is so much
easier to  pipe
the chocolate pastry cream instead of cutting the pastry in half,  I made a small hole on the bottom of each pastry by poking them with tooth pick and then pipped in my chocolate cream pastry. 
No mess, no decoration and quite easy to do. 

The hosts,
Tony Tahnan
and
Meeta K
chose a recipe from one of my favorite chef, Pierre Hermé from a cookbook written by Dorie Greenspan: Chocolate Desserts By Pierre Hermé. And, I am fortunate that I have the book and enjoy making dessert from this book as well as his other book " Dessert By Pierre Herme". Both Tony and Meeta also quite easy with the rules, which was giving  me so much pleasure to make them. Not that I don't like the rules, it just for this month challenge, I felt that I didn't have enough time. So I was happy to found out that the challenge was really easy and almost no rules!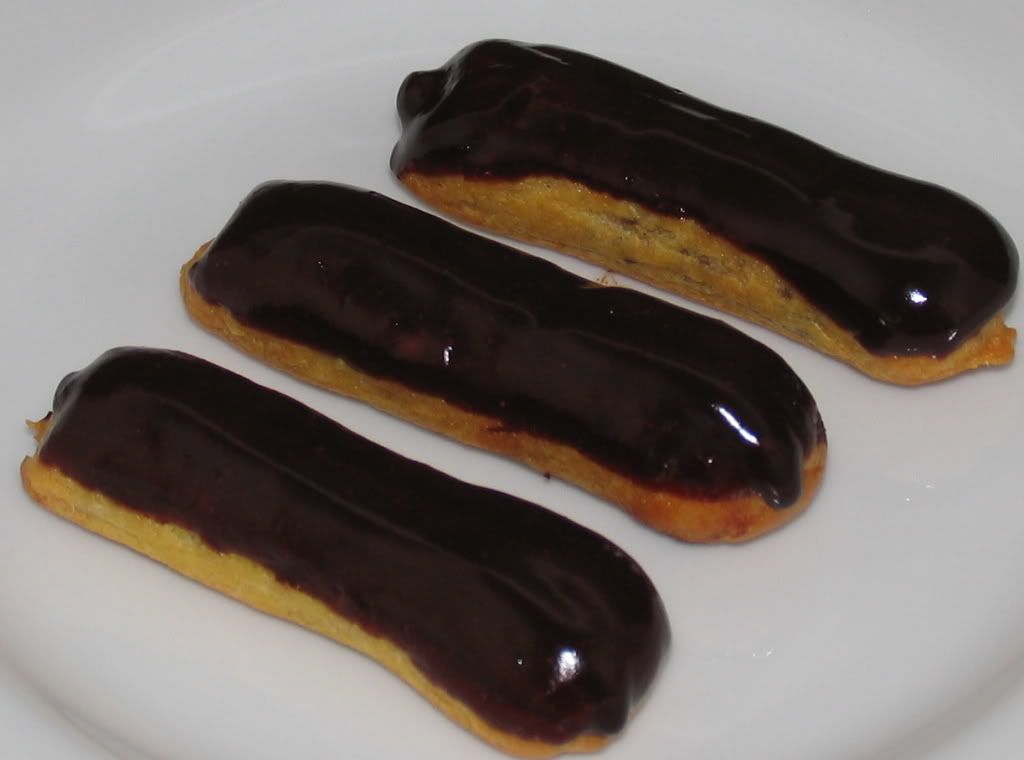 I half the recipe,  only use 3 tablespoon of butter and 2 eggs, and it yield 13 eclairs. It was more then enough for us. As for the glaze, I use my trusted source
"Sarah Bernhard Chocolate Glaze"
from
Alice Medrich "Bittersweet" or Cocolate
book. Both of her books have this glaze recipe. The secret to get optimally shiny and  smooth glaze according to Alice Medrich is to make sure that the temperature of your glaze is around 88 to 90 degrees F. 
Yes, I followed her suggestion! 

Now you know my secret how I get the shiny glaze. I always use this glaze for years, never failed and TRUST ME, it will never failed you either!

The challenge?
I was not encounter any problem at all. Overall, this
wasn't
too challenging for me, but I had fun and had a chance to eat them too before we're leaving for our vacation. 
THANK YOU TONY AND MEETA
  for choosing this month challenge.