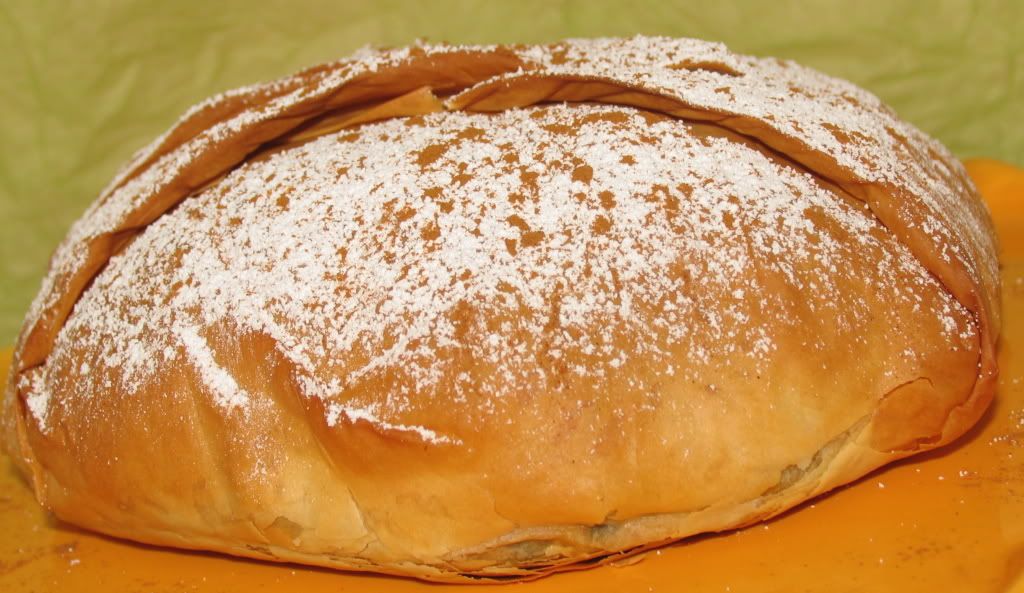 Recipe Adapted From: The Moroccan Collection

Written by: Hilaire Walden
1 small chicken (I substituted with skinless 3 duck legs )
1 large onion, finely chopped 
2 tsp grated fresh ginger
a pinch saffron treads (I use 1 tsp)
3 tbs chopped fresh cilantro
1  1/2 tsp ground cinnamon
3 tbs chopped parsley
4 eggs, lightly beaten ( I use 2 eggs) 
2 tbs unsalted butter (I use 2 tbs olive oil)
2/3 cup blanched almonds, chopped
2 tsp sugar (I omit the sugar)
9 ounces packet filo pastry
olive oil for brushing
salt and pepper
To serve: 
Confectioner's sugar and ground cinnamon (optional)
I wouldn't skip this sugar-cinnamon coating, because they give this pastry very unusual sweet savory taste.
Put the chicken into sauce pan with the onion, ginger, safron, cilantro, 1 tsp cinnamon, parsley, salt and pepper. Add enough water to barely cover the chicken. Simmer gently for 45 minutes untl the chicken is cook and tender. Increase the time to 1  1/2 hours if using duck legs.
Transfer the chicken into a plate to cool completely, then seperate the flesh from the bones, coarsely chop the flesh. Set aside.
Boil the juice until reduce to a thick sauce, add butter (if using) and the beaten eggs, stirring constantly until the egg scrambled.
Meanwhile, lightly toast the chopped almond, add sugar and cinnamon. I didn't put any sugar here.
Take out the fillo pasry from the fridge and cover with towel to prefent them from drying out. Using overlapping sheets of filo pastry and brushing each sheet with olive oil, make a square 3 layers thick ( I  make 7 layers, yes I am that crazy with this thin sheet of pastry) and 18 inches across on baking sheet. Spread the eggs mixture  in the middle of pastry, top with chopped chicken and the almonds. Fold the pastry to enclose the filling, brush the top with olive oil.
Bake for 35 - 45 minutes or until the pastry is golden brown.
Let cool slightly,  transfer the b'stila into serving plate sieve confectioner's sugar over the top and sprinkle a ittle bit of cinnamon if desire.