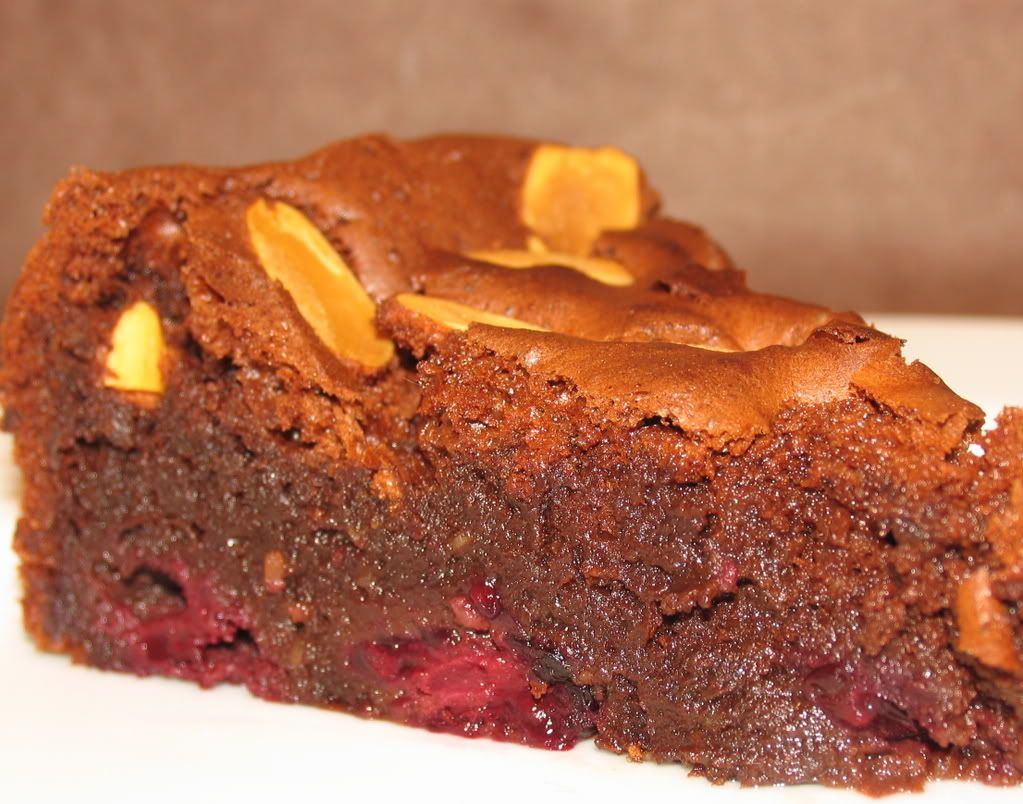 The center should be still gooey!!!!

As the cake cools down, the center will be crack and fall a little bit
Preheat oven to 375 F. 

grease and line a 9 inches cake pan with parchment paper
Ingredients 
9 oz  bittersweet chocolate*, coarsely chopped
4 oz unsalted butter
zest from 1 orange 
1/4 cup blackberry liqueur**
5 egg yolks 
1/4 cup sugar
Melt chocolate and butter together in a large heatproof bowl over barely simmering water, until almost melt. Remove from the heat, add orange zest and  blackberry liqueur, stir until smooth
whisk egg yolks and sugar until until thick and pale, stir in the chocolate mixture. Set aside
1/2 cup ground almond
1/4 cup confectioner sugar
place ground almond and confectioner sugar in the food processor and process until you have very fine ground almond flour, set aside 
5 egg whites
1/2 cup sugar
1/4 teaspoon cream of tartar
pinch of salt
about 15 or more fresh blackberry
slice almond, lightly toasted (optional)
beat the egg whites and cream of tartar with an electric mixer until foamy. Gradually add sugar little by little, continue to beat the egg whites until almost stiff
take about 1/4 of the egg whites and mix onto chocolate mixture, add almond flour/ground almond and fold them well. Add the rest of the egg whites, fold gently just until all ingredients are incorporated
scrape the batter into the prepared pan, scatter the blackberry into the batter one by one and sprinkle with slice almond
bake for 25 to 35 minutes, the edge of the cake should come out clean when inserted with toothpick, while the middle of the cake will still be slightly jiggle
cool completely before serving
*     For this recipe I use 70 % bittersweet chocolate
**   You can use any type of your favorite flavor liqueur, the option are endless.