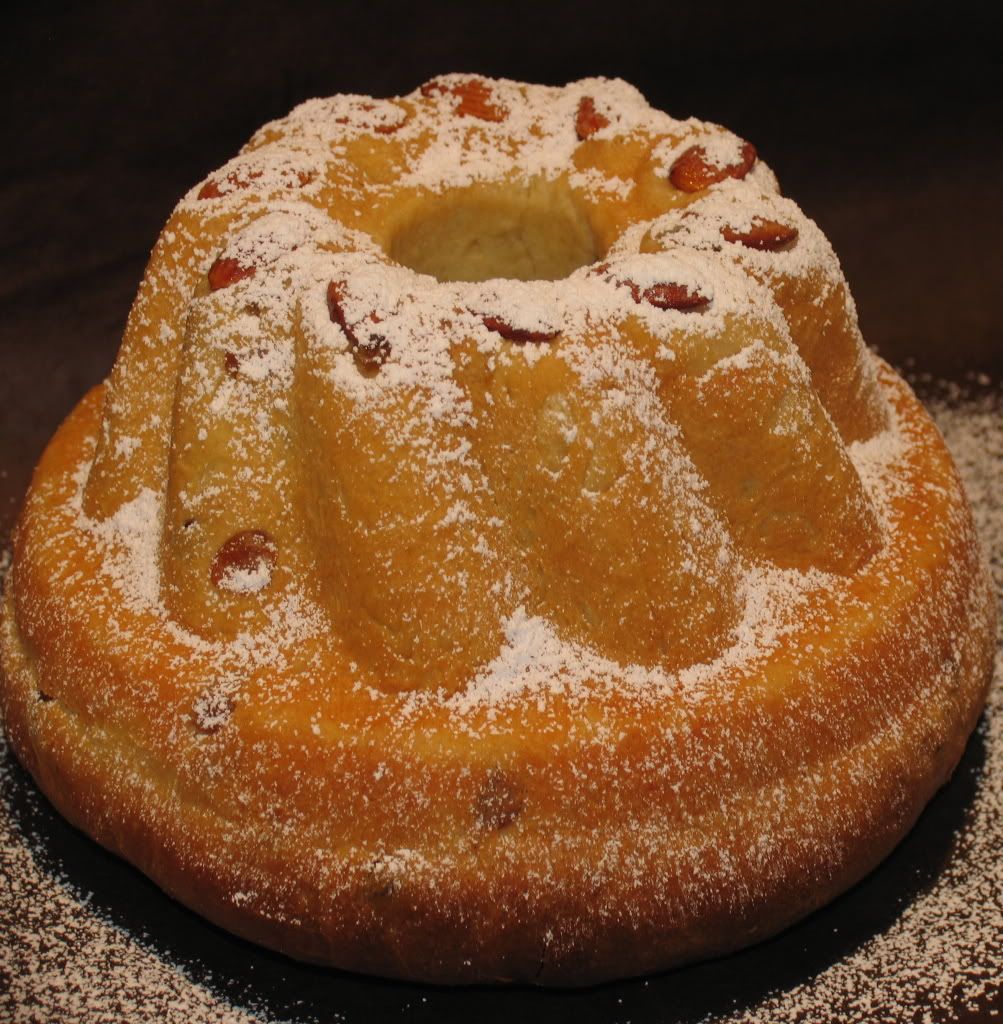 This Alsatian specialty bread has been a favorite of mine, since the first time I've tasted. I wish I have the authentic Kougelhopf mold for the recipe. I couldn't really find one in the U.S, so if you happen to know where to buy it I would be so happy. For now, I am satisfied enough using a metal tin (found at Sur La Table) that close enough to the original ceramic Kougelhopf mold. I think it turned out okay.
Note:
The Alsatian called it Kougelhopf, while the Austrian also has similar bread with many name depending on the ingredients. For example, if it made with baking powder it will be called Gewoehnlicher Backpulver Guglhupf. If it made with cream or sour cream they called it Rahmguglhupf. There is also Guglhupf Aus Germteig using yeast as one the of the ingredient, which is know by the Austrian as "French Guglhupf". I am very sure the German and the Swiss also have theirs version of Kougelhopf.
Recipe from Paris Boulangerie-Pâtisserie
Written By: Linda Dannenberg
Make 2 8" - 9" Kougelhopf
1 cup/140 G golden raisin
¼cup/60 ml kirsch
½ cup/90 g whole almond
2½ cups/625 ml luke warm milk
1 cup/240 g unsalted butter, soften
5 teaspoons dry yeast
5½ cups/685 g all- purpose flour
¾ cup plus 2 tablespoons/200 g granulated sugar
4 teaspoons salt
2 large egg
confectioners sugar for dusting (optional)
In small bowl, soak the raisin with the kirsch, set aside.
Butter kougelhopf molds liberally, press the whole almond into the grooves at the bottom (crown) of each, so they stay in place. Set aside.
The starter: in a large bowl, add ¾ cup/175 ml of luke warm milk, 1 tablespoons of sugar. Sprinkle on the dried yeast, then stir in 1 cup/125 g of flour. Mix until completely incorporated. Cover with plastic wrap, let rise for an hour until double in volume.
Put the remaining lukewarm milk, butter, flour, sugar, salt and eggs in a mixer bowl with the dough attachment. Process to mix thoroughly, add the starter and continue to process with low speed until the dough is smooth, shiny and very pliable but also will be slightly sticky (about 10 minutes)
Drain the raisin and reserving the liquid. Transfer the dough onto lightly floured counter top. Knead the dough and the raisins by hand until well distributed.
Transfer to a large bowl, cover with plastic wrap, let the dough rest for 1 to 2 hours, or until its double in volume.
Preheat oven to 375⁰F.
Divide the dough into 2 equal pieces, shape each one into ball, make a hole in the middle and fit the dough into Kougelhopf molds. They should be about three quarter full.
Cover loosely with a clean kitchen towel, let it rest for another 10 to 15 minutes.
Bake for 45 minutes, or until golden brown and sound hollow when tapped.
Let the Kougelhopf rest for 5 minutes before unmold it. Let cool completely.
Drizzle the middle of kougelhopf with the left over kirsch and dust with confectioners' sugar.
In Alsace, Kugelhopf is made the day before, or even 2 days a head before it being eaten. By then, it will have the right light-dry texture!