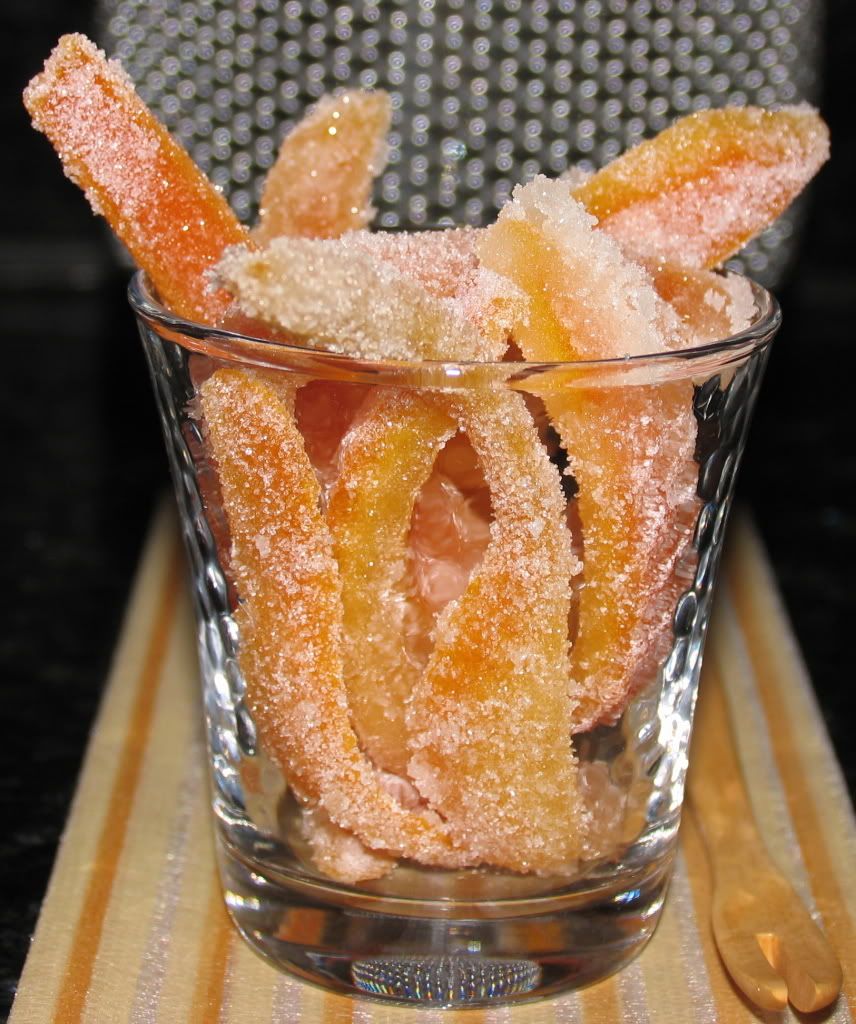 For this candied citrus peel (photo above), you need the peel orange or grapefruit. Place the peel in a sauce pan, fill with cold water, then bring it to a rolling boil. As soon as it is boil, drain. Replace the water with cold water, bring back to a boil. Repeat two or three more times, until the peel is translucent, drain. Return the peel to the pan, add sugar, and water, let it simmer, and stir to dissolve the sugar. Continue to simmer until it become sirupy. Remove from the heat, transfer the peel into a wire rack. Cool and let dry overnight. When ready to serve, dredge the peel in sugar to coat.
This recipe bellow is delicious for garnish.
Quick Citrus Zest Garnish, r
ecipe from:
Pure Dessert
True Flavors, inspiring ingredients, and simple recipes
3 bright-skinned (preferably organic or unsprayed) oranges, 5 lemons, 6 limes, or 1 grapefruit
1 cup sugar
⅔ cup water
Zest the orange into 1½ - 2 inches long and about 1/8" wide. Put them in a small sauce pan and fill with water. Bring to a boil, and boil for 5 minutes; drain.
Repeat
. Return the zest to the sauce pan with sugar and ⅔ cup of water and bring to simmer, stirring until the sugar dissolved. Cover and simmer for 5 minutes, or until the zest is translucent and tender.
Transfer the zest and the syrup to a small bowl. Cover and refrigerate overnight. (At this point, the zest can be refrigerate for several weeks.) Drain before using, sprinkle with sugar if desire.